Selecting the best laptop for OpenVR can be a challenging task, especially considering the diverse range of VR applications and the high-performance demands associated with them. As a long-time VR enthusiast, I understand the importance of finding a laptop that not only meets the system requirements of OpenVR but also caters to your specific needs in terms of portability, build quality, and price.
To help you find the perfect laptop for your VR adventures, I've meticulously reviewed an extensive laptop spreadsheet of recent releases, comparing specs and reviews from both professionals and users alike. By assessing factors such as GPU performance, display quality, and connectivity options, I've narrowed down the top laptops that cater to various OpenVR applications and price ranges.
When searching for the best laptop for OpenVR, it's crucial to prioritize features such as a powerful GPU for seamless rendering, a high-quality display for an immersive experience, and sufficient USB ports for connecting your VR headset and accessories. Additionally, keeping an eye on the laptop's thermal management and battery life is essential for those long VR sessions. By focusing on these key aspects, you can confidently dive into the immersive world of virtual reality knowing that your laptop is up to the task.
Powerful Processors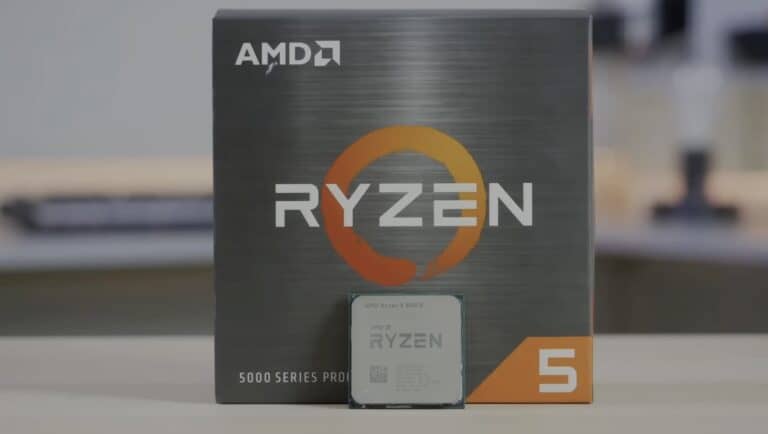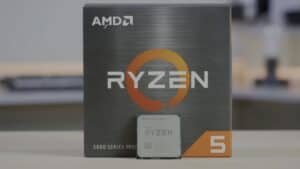 Modern laptops are powered by a variety of different processors, and choosing the right one for OpenVR can be tricky. In this guide, we'll take a look at the latest chips from Intel, AMD, and Apple and see which processors are best suited for VR.
What's new in the CPU market
In recent years, the CPU market has seen quite a few changes. Apple has released its own ARM-based M1, M1 Pro, M1 Max, and M2 System-on-Chip (SoC) modules, which offer impressive single-core performance and battery life. On the other side of the fence, AMD has managed to capture nearly 20% of the laptop market with its 6th generation Ryzen processors. Finally, Intel's 13th generation of processors is finally reaching laptops, although 12th generation is still the latest from the blue team.
Both Intel's and Apple's silicon chips have adopted a hybrid performance/efficiency core design, allowing them to offer both impressive single-thread performance and strong battery life. Ryzen models, on the other hand, are best if you need a good battery life in a PC laptop.
How VR uses the CPU
VR applications rely heavily on the CPU for all kinds of tasks, from rendering complex 3D scenes to running AI-based algorithms. The CPU is also responsible for calculating audio and physics effects, networking and networking events, AI processing, and physics simulation. In short, the CPU is an integral part of the VR experience, so it's important to make sure that you get the right one for your needs.
How much performance is needed for VR?
In terms of performance, VR applications are fairly demanding. Even with the most basic VR experience, you'll want a processor with a PassMark score of at least 6500 and a Cinebench R23 score of at least 1600. If you plan to use more intense VR applications, then you'll need a processor with even higher performance numbers.
Does a high-end CPU make sense for VR?
Generally speaking, high-end CPUs do make sense for VR applications, but only if you're willing to sacrifice battery life in favor of performance. High-end processors like Intel's 11th Gen i7 processors have higher PassMark and Cinebench R23 scores than mid-range models, so they can handle more intensive VR applications. However, they also draw more power and generate more heat, so battery life tends to suffer.
My recommendations for VR-ready processors
When it comes to choosing a processor for VR applications, my recommendations are as follows:
Minimum: Intel i3-1115G4
Recommended: Intel i5-10310U
High-end: Intel i7-1180G7
Ultimately, the choice will depend on your budget and needs. If you want maximum performance and don't care about battery life, then go for the high-end option. Otherwise, if you want a good balance of performance and battery life, then go with one of the mid-range options.
Vivid Visuals
The laptop graphics market is dominated by Nvidia. The company recently released its RTX 40 series, but these are not yet available on laptops. The latest laptop graphics cards are in Nvidia's RTX 30 series, such as the RTX 3070 Ti.
Desktop GPUs are now a lot more power-hungry than before, so the gap between desktop graphics and notebook graphics has widened in the past few years. Nvidia has also discontinued the Max-Q label for its RTX graphics cards, leaving the exact GPU wattage to be determined by the laptop manufacturer (OEM). This can lead to a wide variance in graphics performance even in laptops with the same GPU chipset.
A dedicated GPU is required for VR, so an integrated graphics chip is out of the question. The requirements for a laptop GPU are more stringent than for desktop GPUs, as they must support a higher framerate with less latency.
Nvidia and AMD offer different lines of graphics cards with varying performance levels and power consumption levels. The RTX series from Nvidia is designed for high-end laptops that can handle cutting-edge raytracing effects in games, but it comes at the cost of battery life and thermals. Meanwhile, the Nvidia Max-Q series is designed for ultrabooks that prioritize battery life over performance. Finally, the regular Nvidia series falls somewhere in between these two extremes.
When comparing graphics cards for gaming laptops, 3DMark benchmarks can be used to compare different GPUs side by side. However, these tests don't always accurately reflect real-world gaming performance because some laptop manufacturers underclock their GPUs to improve battery life or reduce heat output (which can cause throttling). In addition, some laptops have thermal limitations that prevent them from reaching their full potential even when they're not throttled due to power delivery limitations or CPU/GPU contention issues.
To ensure a laptop doesn't throttle its dedicated graphics card, make sure it has enough power delivery (or wattage) allocated to its graphics card. This will ensure it reaches its full potential.
Recommended GPUs for OpenVR Laptops
Below is a list of recommended GPUs for various price ranges:
Minimum: GeForce GTX 1650
Recommended: GeForce RTX 3050
High-end: GeForce RTX 2060
Memory Matters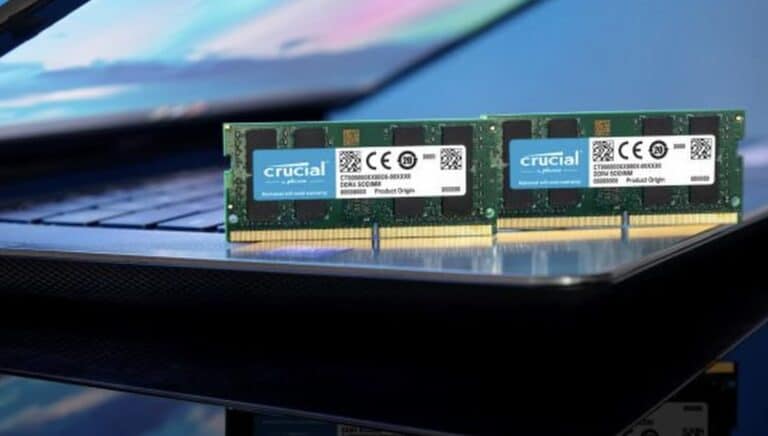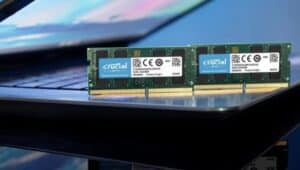 Using virtual reality (VR) applications on your laptop requires a lot of memory and the right type of RAM. While most mid-range laptops come with 16 GB of RAM and high-end machines offer 32 GB or more, the latest Intel and AMD CPUs support DDR4 and DDR5 memory, which is still quite expensive and needs time to mature as a technology.
It's important to consider the performance of your laptop in case you decide to upgrade your graphics card in the future, as more RAM may be needed for the added power. If you're looking for a gaming laptop with a high refresh rate panel, you might have to sacrifice some memory capacity for it. Laptops are often limited in upgradability, so make sure you get enough memory from the start.
When looking for the right laptop RAM, the minimum requirement is 8 GB. 16 GB is recommended and 32 GB is recommended for high-end gaming laptops. You'll also want to consider latency, frequency, and other factors when choosing RAM chips.
At the entry level (under $700 USD), you can expect to find 8 GB of RAM. For $700-$1000 USD range laptops, you can expect 12-16 GB of RAM. For laptops in the $1000-$1500 USD range, expect 16-32 GB RAM. Finally, for laptops over $1500 USD you can expect 32 GB or more of RAM.
In short, getting enough RAM from the start is important for a smooth OpenVR experience. Keep in mind the potential for upgrading your graphics card, so if possible buy more RAM than you need now. DDR4 is the most cost-efficient solution for the majority of gamers, while DDR5 could be a good option for those wanting to squeeze out every bit of performance from their laptop.
OpenVR FAQs
Q: What laptops are compatible with OpenVR?
OpenVR is compatible with a wide range of laptops, but it's essential to ensure that your laptop meets the minimum system requirements. Most modern gaming laptops are designed to support OpenVR, but it's always a good idea to check the specifications before making a purchase.
What are the minimum system requirements for OpenVR on a laptop?
The minimum system requirements for OpenVR on a laptop are as follows:
Memory: 8 GB
Processor: i3-1115G4 or higher
Graphics: GeForce GTX 1650 or higher
Meeting these minimum requirements will enable you to run OpenVR on your laptop, but keep in mind that you may experience limited performance and may not be able to play more demanding VR experiences.
Can I use OpenVR on a gaming laptop?
Absolutely! Gaming laptops are an excellent choice for running OpenVR. They typically have powerful processors, dedicated graphics cards, and sufficient memory to provide a smooth VR experience. Just make sure that your gaming laptop meets the recommended system requirements for the best performance.
How to set up OpenVR on a laptop?
Setting up OpenVR on a laptop is relatively straightforward. Here are the steps to follow:
Ensure that your laptop meets the minimum system requirements for OpenVR.

Install the SteamVR software from the Steam Store on your laptop.

Connect your VR headset to your laptop using the provided cables.

Launch the SteamVR software and follow the on-screen instructions to complete the setup process.

Once the setup is complete, you can start exploring the world of virtual reality on your laptop.
What graphics card do I need for OpenVR on a laptop?
The graphics card is a crucial component for a smooth VR experience. For OpenVR on a laptop, you should aim for a graphics card that meets or exceeds the recommended requirements. Ideally, you should look for a laptop with a GeForce RTX 3050 or higher for optimal performance and compatibility with the latest VR games and applications.
Can I play SteamVR games on a laptop with OpenVR?
Yes, you can play SteamVR games on a laptop with OpenVR. SteamVR is a widely supported platform for virtual reality gaming, and most VR games available on Steam are compatible with OpenVR. Just make sure that your laptop meets the minimum system requirements for both OpenVR and the specific game you want to play.
Is a high-refresh rate display important for OpenVR on a laptop?
A high-refresh rate display can significantly enhance the VR experience on a laptop. It allows for smoother and more fluid motion, reducing motion sickness and providing a more immersive experience. While it's not a strict requirement, if you have the option, we highly recommend investing in a laptop with a high-refresh rate display, such as the Acer Nitro 5-144 Hz, for a more enjoyable OpenVR experience.
Can I connect multiple VR headsets to a laptop for OpenVR?
Connecting multiple VR headsets to a laptop for OpenVR is technically possible, but it depends on the capabilities of your laptop and the specific VR hardware you're using. Some laptops may have multiple USB ports and display outputs, enabling you to connect multiple VR headsets simultaneously. However, keep in mind that running multiple headsets may require more processing power and resources, which could impact performance. It's best to consult the specifications and documentation of your laptop and VR hardware to determine if it supports multi-headset setups.
What laptops have built-in support for OpenVR?
While there are no laptops with built-in support specifically for OpenVR, many gaming laptops are designed to be compatible with OpenVR. Manufacturers like ASUS, Acer, Lenovo, and others offer gaming laptops with powerful processors, dedicated graphics cards, and ample memory to provide an optimal VR experience. Some recommended laptops that meet or exceed the recommended system requirements for OpenVR include the ASUS TUF NVIDIA GeForce, Acer Nitro 5-144 Hz, Lenovo Legion 5 Pro, ASUS ROG Strix G15 G513RM, and Lenovo Legion Pro 7i 16.
How to troubleshoot common issues with OpenVR on a laptop?
If you encounter any issues while using OpenVR on your laptop, here are a few troubleshooting steps you can try:
Ensure that your laptop meets the minimum system requirements for OpenVR.
Update your graphics card drivers to the latest version.
Check for updates for the SteamVR software and install them if available.
Verify that all cables and connections between your laptop and VR headset are secure.
Restart your laptop and VR headset.
If the issue persists, consult the documentation or support resources provided by your laptop manufacturer or VR headset manufacturer for further assistance.
Remember, troubleshooting steps may vary depending on the specific issue you're facing
Finding the Perfect OpenVR Laptop Match
5 Best Laptops for OpenVR
$880
i5-12450H
|
GTX 1650
|
32 GB RAM
|
2000 GB SSD
|
15.6″ IPS WA; 1920x1080
|
HP Victus 15: Budget-friendly gaming laptop that sacrifices battery life and design for performance.
Pros
Excellent price
Good gaming performance
Can double as a work laptop
Three color choices
Cons
Bad battery life
Rather plain design
Weak GPU yields unsatisfactory frame rates
Screen only so-so despite 144Hz refresh rate
Summary
HP Victus 15 is a budget gaming laptop that offers excellent gaming performance at an affordable price. It is suitable for those who prioritize performance over battery life and flashy design.
Alternatives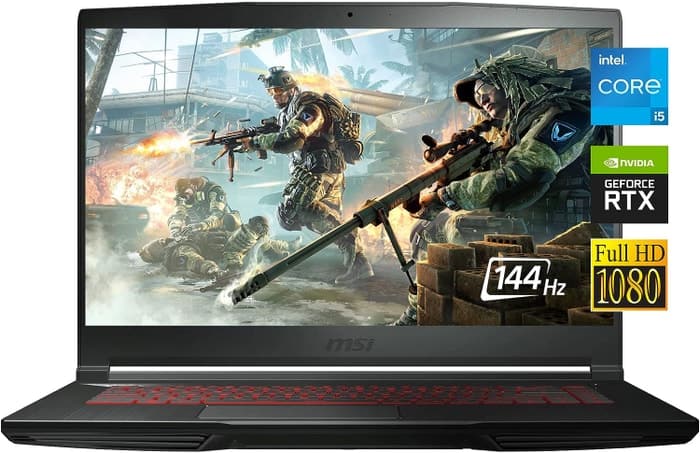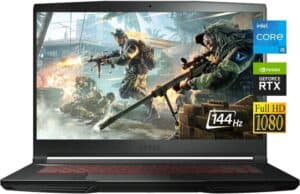 $800
Pros
Excellent performance given the price
Solid build quality
Cons
Average battery life
Some annoying bloatware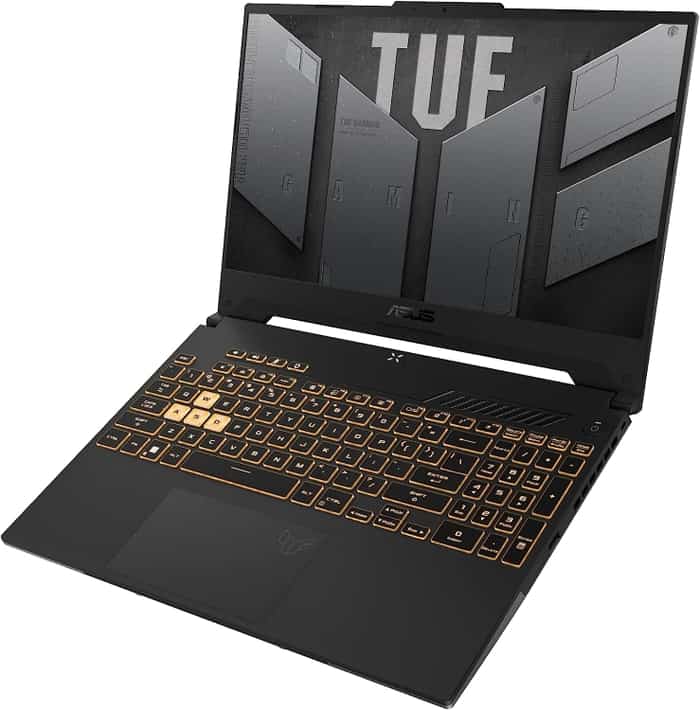 $1,100
i5-13500H
|
RTX 4050
|
512 GB RAM
|
500 GB SSD
|
15.6″; 1920x1080
|
ASUS TUF F15 FX507VU-ES53: Budget gaming powerhouse with a few drawbacks.
Pros
Superb 1080p gaming performance
Strong productivity capabilities
Great price
Cons
Poor webcam, touchpad, and speakers
Some games appear washed out on display
Summary
The ASUS TUF F15 FX507VU-ES53 is a budget laptop that delivers impressive gaming performance at 1080p, making it a great choice for gamers on a budget. However, the laptop suffers from a subpar webcam, touchpad, and speakers, and some games may appear washed out on its display.
Alternatives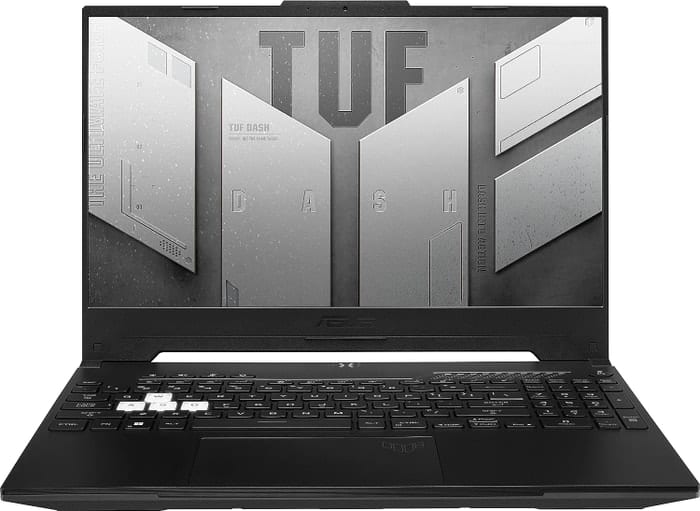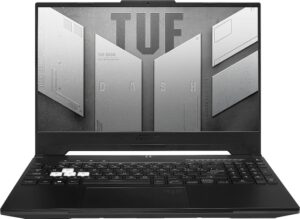 $1,160
Pros
Lightweight and well-built design
Good inputs and IO
Cons
Quirks affecting everyday ergonomics
Most ports squeezed together on the left edge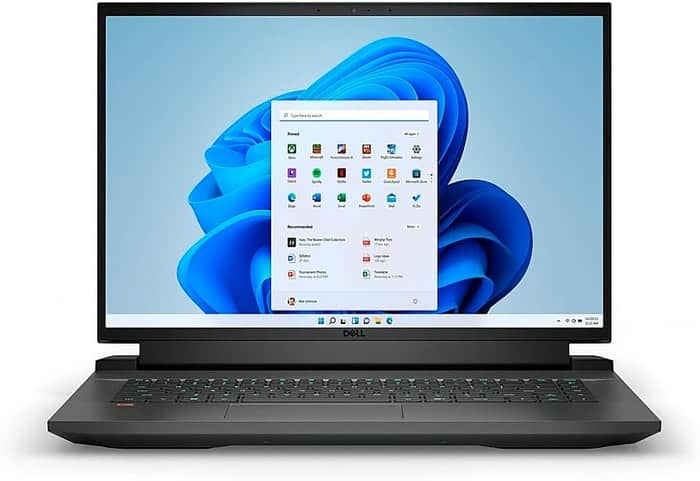 $1,510
i9-13900HX
|
RTX 4070
|
64 GB RAM
|
2000 GB SSD
|
16″; 2560x1600
|
The Dell G16 offers impressive gaming performance with its high refresh rate IPS panel and easy upgradeability, but falls short with its poor power efficiency and lack of Thunderbolt 4.
Pros
Relatively affordable
Easy upgradeability with 2x DDR5 RAM SODIMM and 2x M.2 PCIe x4 Gen 4 slots
Impressive color accuracy and high refresh rate IPS panel
Good gaming performance
Cons
Heavier and thicker than competitors
Thunderbolt 4 only available on more expensive model
No SD card reader
Summary
The Dell G16 may not be the most portable option and lacks some features like Thunderbolt 4 and an SD card reader, but its robust cooling system, upgradeable RAM and SSD slots, and stunning IPS panel with high refresh rate and accurate colors make it a strong contender in the gaming laptop market.
Alternatives
$1,500
Pros
Highly responsive 165Hz panel
Wide color gamut
Cons
High power usage at idle and low load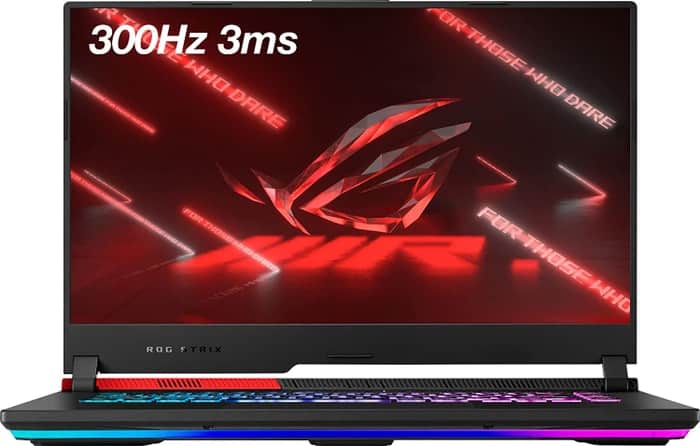 $1,750
Ryzen 9 5900HX
|
Radeon RX 6800M
|
64 GB RAM
|
4000 GB SSD
|
15.6″ IPS G-Sync; 1920x1080
|
ASUS ROG Strix G15: Unleash the power of RTX 3070.
Pros
High-performance CPU and GPU
Excellent build quality
Impressive display
Sleek and sophisticated design
Cons
Limited connectivity options
Occasional coil whine
Summary
The ASUS ROG Strix G15 is a powerhouse gaming laptop featuring an RTX 3070 GPU and a Ryzen 5000 CPU. With high performance, a 300 Hz display, and excellent build quality, it's a top choice for gamers. However, the skimpy connectivity and occasional coil whine are minor drawbacks to consider.
Alternatives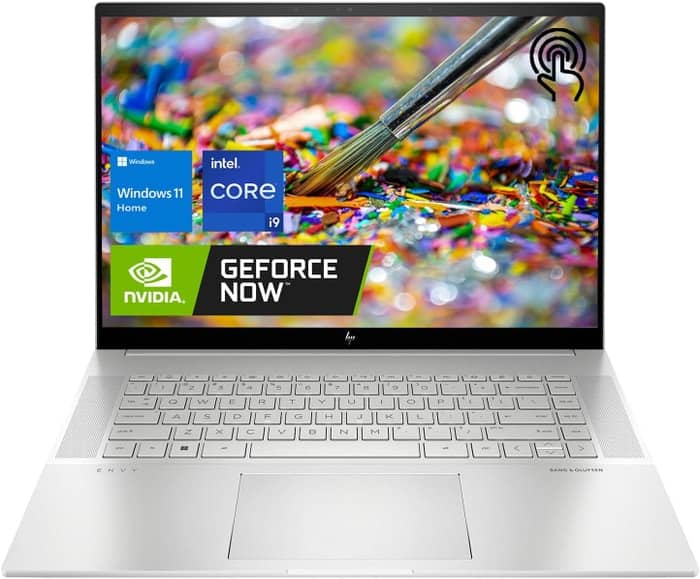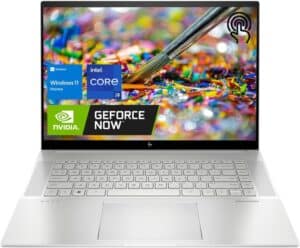 $1,710
Pros
Plenty of CPU and GPU power
New 120Hz screen refresh rate
Cons
Merely adequate base screen
Optional OLED has fewer pixels than before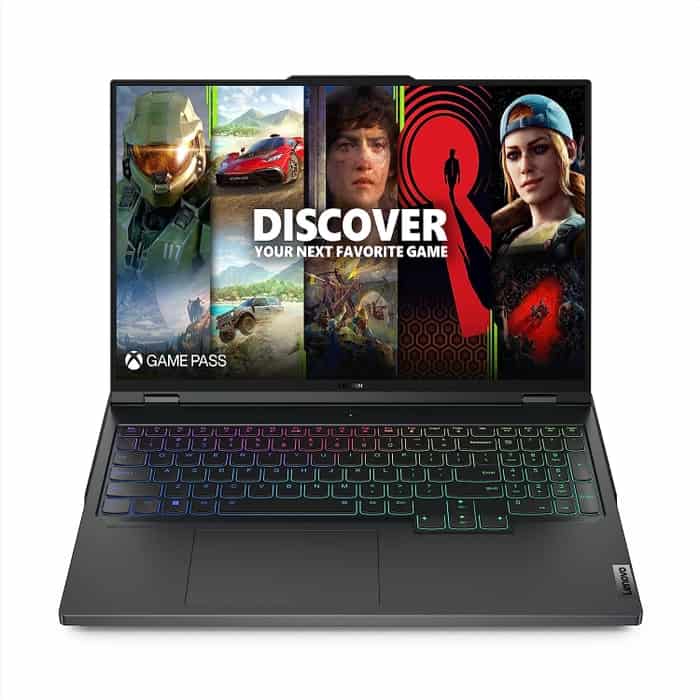 $3,390
i9-13900HX
|
RTX 4090
|
32 GB RAM
|
1000 GB SSD
|
16″ HDR; 2560x1600
|
Lenovo Legion Pro 7i 16: A mid-priced powerhouse for OpenVR.
Pros
Strong overall performance
Display is big, bright and fast
Per-key RGB lighting
Cons
Some flex to keyboard deck
Poor battery life
Summary
The Lenovo Legion Pro 7i Gen 8 is armed with a 13th-gen Core i9 CPU and RTX 4090 graphics, making it a strong performer for OpenVR applications. It features a big, bright and fast display, along with per-key RGB lighting. However, it suffers from some flex in the keyboard deck and poor battery life.
Alternatives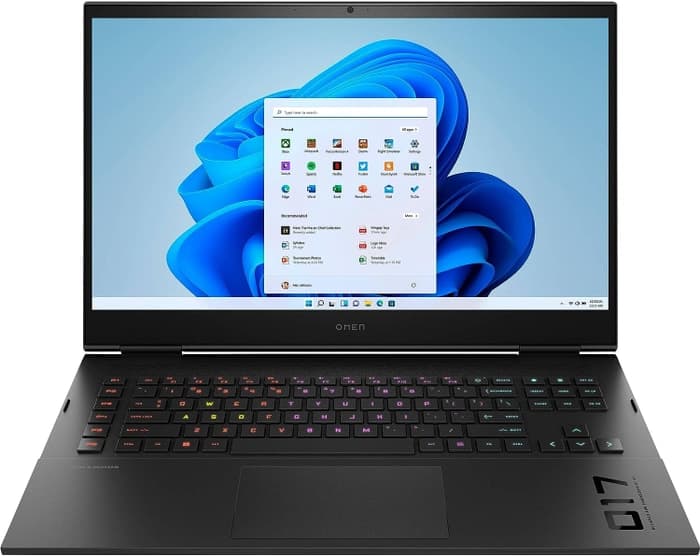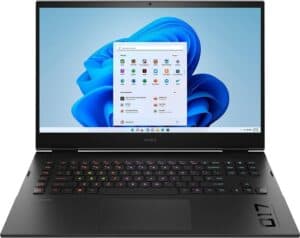 $4,290
Pros
QHD display with 165 Hz
Expandable working memory
Cons
Slightly below-average performance for a RTX 4080
High noise level
Table of the Best Laptops for OpenVR