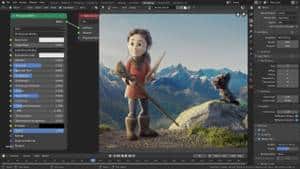 When it comes to finding the best laptop for Blender, the search can be both exciting and challenging. As an avid Blender user, I understand the importance of balancing performance, display, and portability to optimize your 3D modeling, animation, and rendering experience. In this guide, I've taken the time to review an extensive laptop spreadsheet of recent releases, comparing specs and reviews to help you find the ideal laptop for your creative endeavors.
Blender is a powerful, open-source 3D creation suite, and it demands a laptop with robust hardware to handle complex tasks such as sculpting, particle simulations, and Cycles rendering. While the best laptop for Blender should undoubtedly have a strong CPU and a dedicated GPU, other factors like RAM, storage, and display quality also play a significant role in ensuring a smooth and efficient workflow. Additionally, considering the active community on Blender Artists, Blender Stack Exchange, and dedicated YouTube channels, it's essential to choose a laptop that can keep up with software updates and perform well with various add-ons and plugins.
As a laptop expert with firsthand Blender experience, I've focused on narrowing down top laptops that meet the unique requirements of Blender users across various price ranges. We'll explore options with powerful processors, high-performance GPUs, ample RAM and storage, and quality displays to provide you with the best possible experience when using Blender. Whether you're a freelancer working on a tight deadline, a hobbyist exploring the world of 3D, or a professional creating stunning visuals, this guide will help you find the best laptop for Blender tailored to your needs and preferences.
Laptop FAQs
Q: What are the recommended laptop specs for Blender?
The recommended laptop specs for running Blender smoothly in 2023 are as follows:
Processor: Ryzen 7 4700U or higher
Memory: 16 GB or higher
Storage: 512 GB SSD or higher
Graphics: GTX 1660 Ti or higher
Which laptop is best for running Blender?
There are several laptops that are well-suited for running Blender, but two standout options in 2023 are the Lenovo Legion 5 Pro 16 and the HP Victus. The Legion 5 Pro 16 offers excellent performance at an affordable price of $700, while the HP Victus provides a good balance between performance and price at $850. Both laptops meet the recommended specs for Blender.
Can you use Blender on a laptop?
Absolutely! Blender is a versatile software that can be used on laptops. However, to ensure smooth performance, it is important to have a laptop with suitable specifications, such as a powerful processor, sufficient RAM, and a capable graphics card. With the right hardware, you can fully enjoy the benefits of Blender on a laptop.
What graphics card is recommended for Blender?
For optimal performance in Blender, it is recommended to have a graphics card with at least GTX 1660 Ti or higher. This ensures smooth rendering and faster viewport performance, especially when working with complex 3D scenes. The more powerful the graphics card, the better the experience in Blender.
How much RAM is required for Blender on a laptop?
The minimum amount of RAM required for running Blender on a laptop is 8 GB. However, to handle more demanding projects and ensure smooth multitasking, it is recommended to have at least 16 GB of RAM. With 32 GB of RAM, you will have even more headroom for complex scenes and simulations.
What CPU is best for running Blender?
The best CPU for running Blender depends on your budget and performance needs. In 2023, the Ryzen 7 4700U is a solid mid-range option that offers excellent multi-threaded performance at an affordable price. For even better performance, the Ryzen 7 5800H is a high-end choice that provides superior single-threaded performance as well.
Are gaming laptops good for Blender?
Yes, gaming laptops can be great for running Blender. They often come equipped with powerful processors, ample RAM, and dedicated graphics cards, which are all essential for a smooth Blender experience. However, it is important to consider factors such as cooling and portability when choosing a gaming laptop for Blender, as some models may prioritize gaming performance over thermals.
Is SSD storage necessary for running Blender?
While not absolutely necessary, SSD storage greatly enhances the overall performance of Blender. SSDs provide faster load times, smoother file handling, and quicker data transfers, resulting in a more efficient workflow. If you have the budget, opting for a laptop with at least a 512 GB SSD or higher is highly recommended.
Can a budget laptop handle Blender?
Yes, a budget laptop can handle Blender to some extent. With the minimum requirements, you can run Blender and work on simpler projects without major performance issues. However, keep in mind that complex scenes, high-resolution textures, and intensive simulations may put a strain on the hardware, resulting in slower rendering times and potential lag. If possible, it is best to invest in a laptop that meets the recommended specs for a smoother Blender experience.
What laptops have good cooling for running Blender?
Cooling is crucial when it comes to running resource-intensive software like Blender. Some laptops that are known for their excellent cooling capabilities in 2023 include the Lenovo Legion 5 Pro and the ASUS ROG Strix Scar. These laptops incorporate efficient cooling systems, such as multiple heat pipes and powerful fans, to keep the hardware temperatures in check during demanding tasks. It is essential to prioritize good cooling to prevent thermal throttling and ensure consistent performance while using Blender.
5 Best Laptops for Blender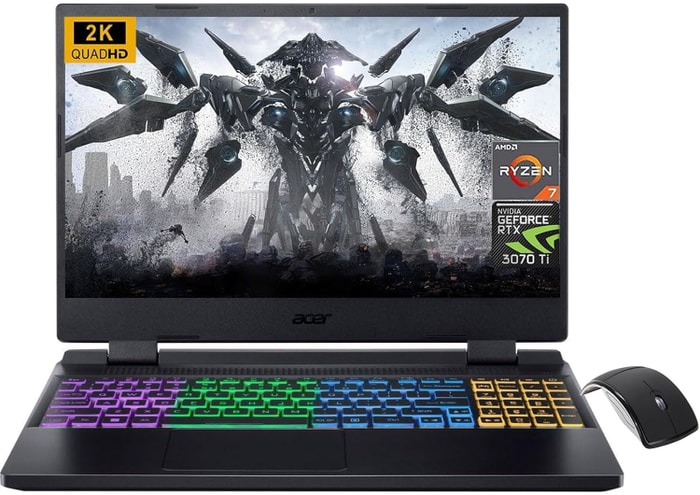 $680
Ryzen 7 6800H | RTX 3070 Ti | 32 GB RAM | 1000 GB SSD | 15.6″; 2560x1440 |
1.acer Nitro 5
Blender laptop
Pros
Solid processor (Ryzen 7 6800H)
Exceptional graphics card (RTX 3070 Ti)
Splendid display (15.6)
Great memory amount (32GB)
Cons
No IPS Panel (worse viewing angles)
Alternatives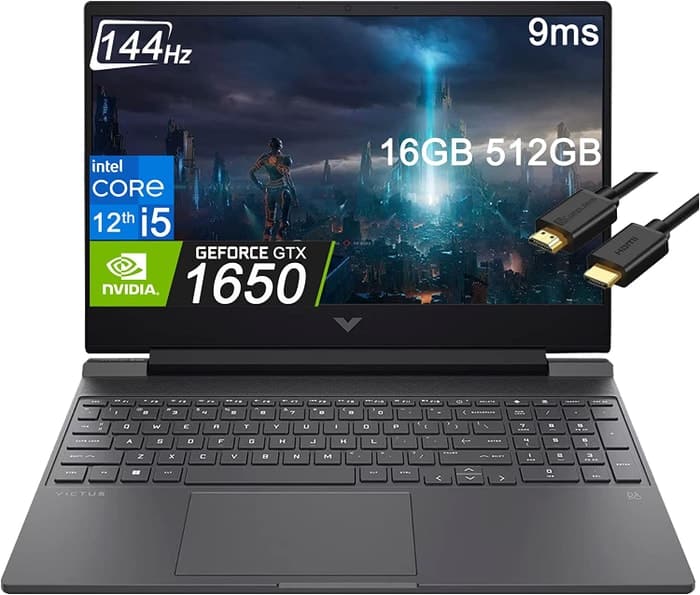 $730
HP Victus 15t
Pros
Low price
Solid productivity performance
Cons
Weak GPU yields unsatisfactory frame rates
Mediocre display and webcam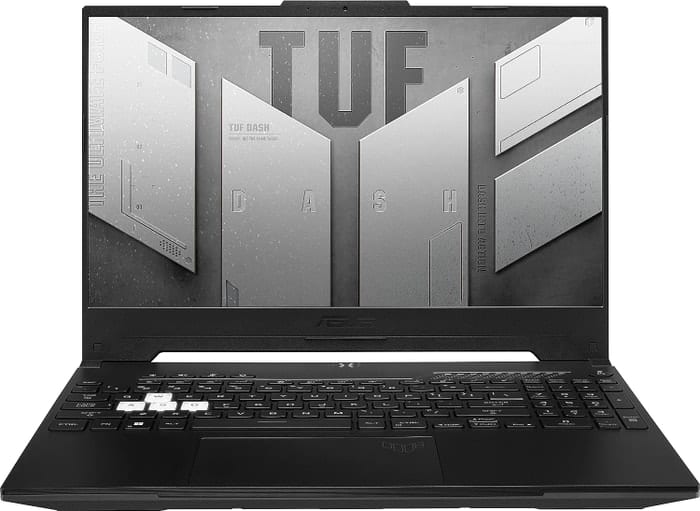 $1,160
i7-12650H | RTX 3070 | 64 GB RAM | 2000 GB SSD | 15.6″ IPS-level G-Sync; 1920x1080 |
2.ASUS TUF Dash F15
ASUS TUF Dash F15: A powerful and affordable laptop for all-purpose and gaming needs.
Pros
Lightweight and well-built
Good inputs and IO
Multiple screen options
More powerful than the previous generation
Cons
Quirks affecting everyday ergonomics
Ports squeezed together on the left edge
FHD 144Hz panel option should be avoided
Summary
The ASUS TUF Dash F15 is a more powerful and affordable update to Asus's all-purpose/gaming laptop series. It offers a lightweight and well-built design, good inputs and IO, multiple screen options, and competitive pricing. However, there are some quirks affecting everyday ergonomics and the FHD 144Hz panel option should be avoided.
Alternatives
$1,100
ASUS TUF F15 FX507VU-ES53
Pros
Superb 1080p gaming performance
Strong productivity capabilities
Cons
Poor webcam, touchpad, and speaker quality
Some games appear washed out on the display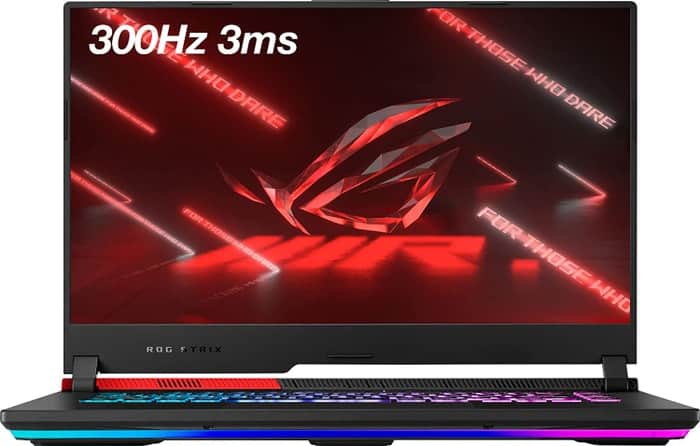 $1,750
Ryzen 9 5900HX | Radeon RX 6800M | 64 GB RAM | 4000 GB SSD | 15.6″ IPS G-Sync; 1920x1080 |
3.ASUS ROG Strix G15
Powerful gaming laptop with a sleek design and impressive performance.
Pros
High-performance CPU and GPU
Good workmanship and design
Impressive display
Stable construction
Cons
Limited connectivity options
Coil whine in certain situations
Summary
The ASUS ROG Strix G15 is a top-of-the-line gaming laptop that delivers high performance with its RTX 3000 GPU and Ryzen 5000 CPU. With its 300 Hz display and user-friendly maintenance, it offers a great gaming experience. However, it does have limited connectivity options and may experience coil whine in certain situations.
Alternatives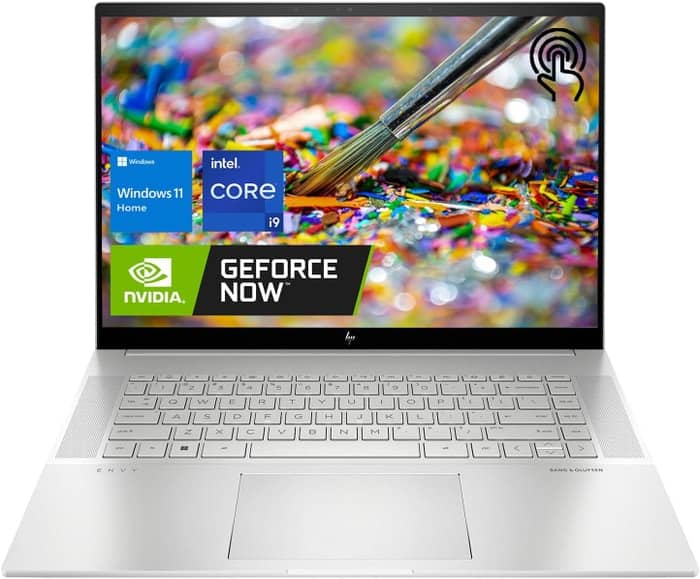 $1,710
HP Envy
Pros
Plenty of CPU and GPU power
New 120Hz screen refresh rate
Cons
Merely adequate base screen
Optional OLED has fewer pixels than before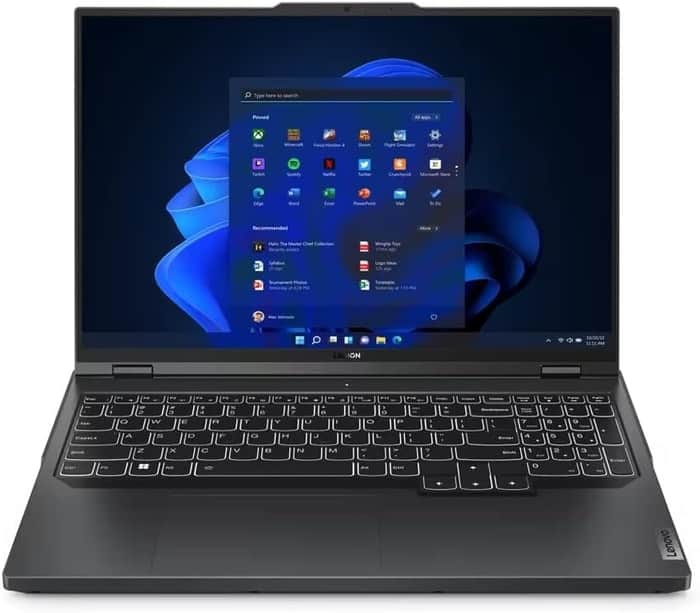 $2,630
i9-13900HX | RTX 4070 | 64 GB RAM | 4000 GB SSD | 14.31″ IPS G-Sync; 2560x1600 |
4.Lenovo Legion Pro 5
Lenovo Legion Pro 5 offers good value with solid performance, but suffers from hotspots and limited battery life.
Pros
Good build quality and design
Good screen and IO
Competent CPU with three GPU options
Competitively priced
Cons
No Thunderbolt or biometrics
Some hotspots while gaming
Poor speakers
So-so battery life
Summary
The Lenovo Legion Pro 5 is a well-built laptop with a good screen and inputs, offering plenty of performance at a competitive price. However, potential buyers should be aware of the hotspots under sustained loads, the somewhat limited battery life, and the lacking speakers.
Alternatives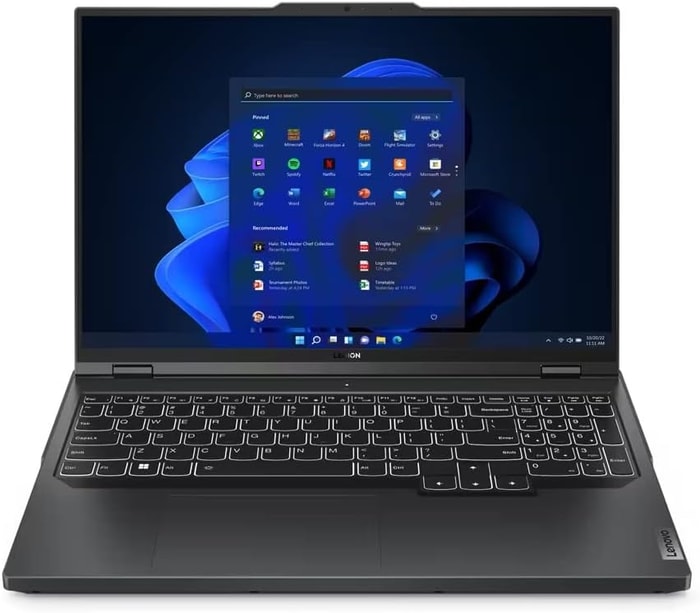 $2,840
Lenovo Legion Pro 5
Pros
Strong performance for the price
Quality build and port selection
Cons
Display quality and battery life are just decent
Bulky and heavy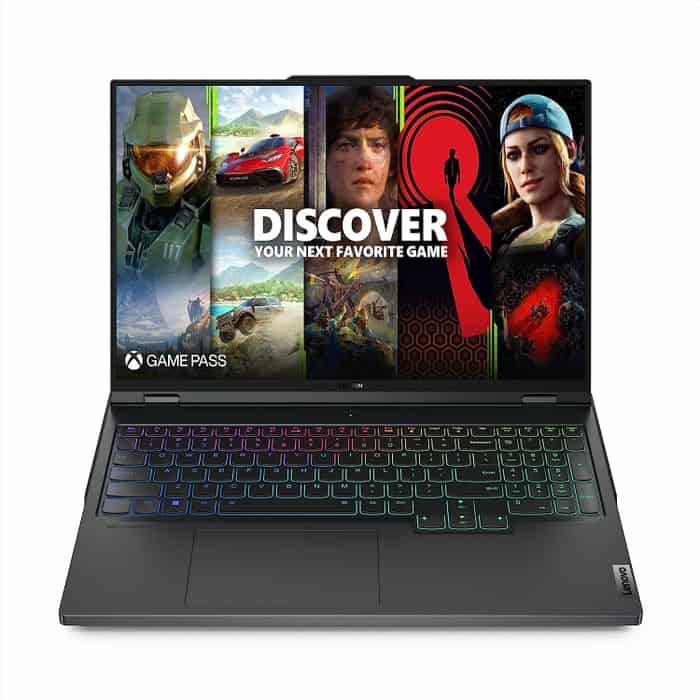 $3,390
i9-13900HX | RTX 4090 | 32 GB RAM | 1000 GB SSD | 16″ HDR; 2560x1600 |
5.Lenovo Legion Pro 7i 16
Lenovo Legion Pro 7i 16: A sleek and powerful gaming laptop with a justifiable price tag.
Pros
Strong overall performance
Big, bright, and fast display
Per-key RGB lighting
Cons
Some flex to keyboard deck
Poor battery life
Summary
The Lenovo Legion Pro 7i 16 impresses with its powerful processor and graphics card, delivering exceptional performance in a sleek and understated design. While it may have some limitations in terms of GPU performance and battery life, it offers great value compared to its competitors.
Alternatives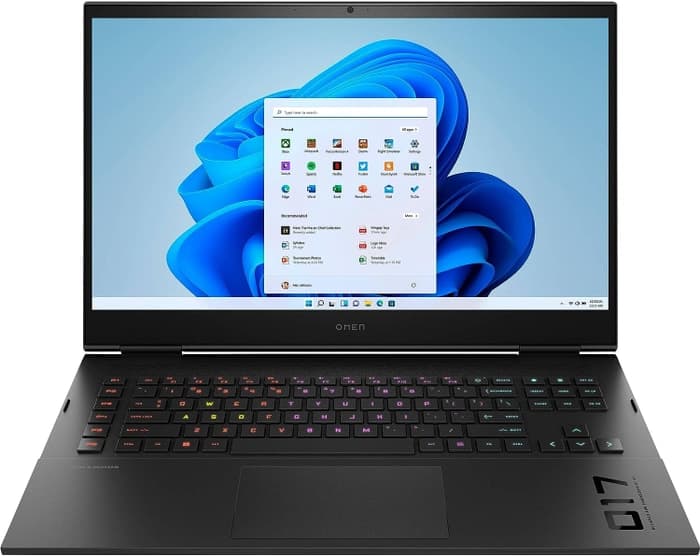 $4,290
HP Omen 17
Pros
QHD display with 165 Hz
Expandable working memory
Cons
Slightly below-average performance for a RTX 4080
High noise level
Table of the Best Laptops for Blender
| | |
| --- | --- |
| Laptop | Price (approx) |
| acer Nitro 5 | $680 |
| ASUS TUF Dash F15 | $1,160 |
| ASUS ROG Strix G15 | $1,750 |
| Lenovo Legion Pro 5 | $2,630 |
| Lenovo Legion Pro 7i 16 | $3,390 |