Choosing the best laptop for CATIA can be a challenging task, especially considering the diverse range of configurations and performance requirements this powerful 3D modeling software demands. As an avid user of CATIA myself, I understand the importance of a well-rounded laptop that can efficiently handle complex assemblies, simulations, and renderings without compromising on reliability or portability.
While reviewing an extensive laptop spreadsheet of recent releases, I've compared specs and gathered insights from both professional and user-generated reviews. This meticulous process has allowed me to narrow down the top laptops based on CATIA-specific requirements and price ranges. The ideal laptop for CATIA should possess a robust processor, a dedicated graphics card, ample RAM, and a high-quality display to ensure a smooth and productive workflow.
As a member of various CATIA forums and communities, I've had the privilege of learning from experienced users and industry professionals. This has led to a deeper understanding of how different laptop features can impact your overall experience in CATIA, such as the benefits of an SSD for faster loading times and the importance of good thermal management to prevent performance throttling. Rest assured, the recommendations in this guide will cater to your needs and help you find the best laptop for running CATIA with confidence and ease.
Processor Power
The processor is the heart of any laptop and its performance is often a deciding factor when making a purchase. It's important to choose the right processor for your needs and budget, and this is especially true for laptops that run CAD/CAM software like CATIA.
In recent years, Apple has released their own ARM-based M1, M1 Pro, M1 Max and M2 system-on-chip modules which offer exceptional single-core performance and battery life. AMD has managed to take 20% of the CPU market with the 6th generation Ryzen processors and Intel's 13th-gen processors are still yet to reach laptops, where 12th generation is Intel's latest. Both Intel and Apple's silicon chips adopted hybrid performance/efficiency core design (based on big.LITTLE). Ryzen models are a great pick if you need a good battery life in a PC laptop.
CATIA is available on Windows and macOS, so if you're going for a MacBook – you can ignore the CPU section. CATIA is a 3D-centric application, and while it can do some 2D work, it's not its primary focus. So when selecting a processor, we should look for one that performs well in 3D rendering benchmarks. I prefer looking at PassMark scores because they're more up to date than Cinebench R20 or R23 scores; however, I will use both since R20/R23 are more recent benchmarks.
Now, if you're looking for a laptop for CATIA but want to save some money – don't expect it to have the best CPU or GPU; instead, look for a mid-range processor and graphics card (if you need one).
Dual vs single-core processors and the importance of clock speed
Single-core processors are great for most everyday tasks and they tend to be more energy-efficient than their dual-core counterparts. However, when it comes to more CPU-intensive tasks, such as 3D rendering, a dual-core processor is preferred as it can offer improved performance over a single-core processor. Clock speed is also an important factor to consider when it comes to processor performance, with higher clock speeds typically equating to better performance.
Do you need a workstation-level CPU for a 3D modeling application?
For basic 3D modelling tasks, a workstation-level CPU is not necessary. However, if you plan on using more advanced features such as video editing or rendering, then it might be worth investing in a higher-end processor to get the best performance out of your laptop.
Table of recommended processors by price range
Below is a table of recommended processors by price range and what to expect at each price level. This table only shows average benchmarks and actual results may vary depending on the laptop's cooling solution and software optimization.
| Processor | Price Range | Passmark Single Core | Passmark Multi Core | Cinebench R20 | Cinebench R23 |
| --- | --- | --- | --- | --- | --- |
| i3-1115G4 | Low | 1706 | 5448 | 637 | 818 |
| i5-10310U | Mid | 2044 | 7181 | 1212 | 1648 |
| i7-1180G7 | High | 2877 | 9722 | 1567 | 2112 |
Graphics Power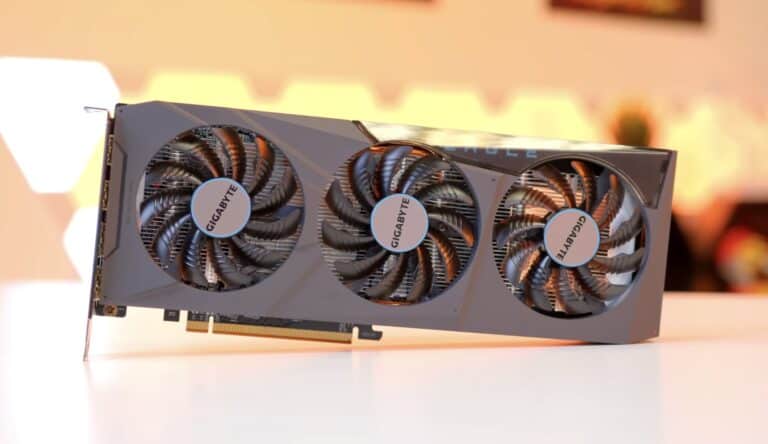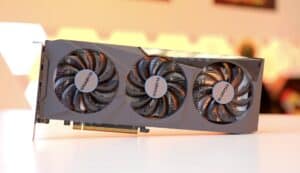 Nvidia continues to dominate the laptop GPU market, with its latest notebook cards being in the RTX 30 series (such as the RTX 3070 Ti). However, the RTX 40 series cards have not yet been released for laptops. Also, desktop GPUs are now more power-hungry than ever, which has widened the gap between power-limited notebook graphics and desktop graphics cards. Furthermore, Nvidia has also discontinued the Max-Q label for its RTX graphics cards. Now, an exact GPU wattage is determined by a laptop manufacturer (OEM), resulting in a wide variance in graphics performance even in laptops with the same GPU chipset.
Since CATIA is a 3D application, a dedicated GPU is required to run it efficiently. This is because the CPU alone isn't capable of keeping up with the rendering times when a GPU is used. The GPU is important for rendering and displaying models in real time, while the number of CUDA/OpenCL cores, clock speed, memory bandwidth, and core count also affect its performance.
For an apples-to-apples comparison of graphics cards, I recommend using 3DMark. If you're looking for a laptop that can be used for gaming, engineering, or anything else – it should have at least an Nvidia 940MX graphics chip inside; if you want more performance, go for an Nvidia 965M or better yet – an Nvidia RTX series chip (but expect to pay more).
To summarize, here's a list of recommended GPUs for various budgets:
Minimum: GeForce GTX 1650
Recommended: GeForce RTX 3050
High-end: GeForce RTX 2060
RAM Essentials
In the past few years, RAM technology has significantly improved and most mid-range laptops now come with 16 GB of RAM, while high-end laptops come with 32 GB or more. Latest-gen Intel and AMD CPUs support DDR4 and DDR5, although the latter is still quite expensive and needs time to mature as a technology.
When it comes to CATIA, the most important thing to consider is RAM, and the general recommendation is to have at least 32 GB of RAM for optimum performance. It should also be noted that DDR4 memory is not strictly necessary for CATIA, although there are some benefits to using it.
Other components to consider when choosing a laptop for CATIA are fanless laptops, upgradability, and battery life. Depending on your budget, you should be able to find a laptop with these components that is suitable for your needs. Here's an overview of what you can expect at various price points:
| Price Range | CPU | RAM | Storage |
| --- | --- | --- | --- |
| Low | Dual Core or higher | 8 GB | SSD 256 GB |
| Mid-Range | Quad Core or higher | 16 GB | SSD 512 GB |
| High-end | Eight Core or higher | 32 GB | SSD 1 TB or more |
FAQ
Q: Which laptop is best for CATIA?
CATIA is a complex 3D modeling and design software that requires a powerful laptop to run smoothly. For the best performance, we recommend considering laptops with high-end specifications like the Lenovo Legion 5 Pro or the Lenovo Legion 7i 16. These laptops have the necessary components to handle the demanding tasks of CATIA effectively.
What are the recommended laptop specs for CATIA?
CATIA performs best with a combination of a powerful processor, dedicated graphics card, and ample RAM. We recommend the following specifications for a smooth CATIA experience:
Graphics: For minimum requirements, a GeForce GTX 1650 is recommended. For medium requirements, consider a GeForce RTX 3050, and for maximum requirements, a GeForce RTX 2060 is ideal.
Processor: For minimum requirements, an i3-1115G4 is sufficient. For medium requirements, an i5-10310U will be better. For maximum performance, an i7-1180G7 is recommended.
Memory: For minimum requirements, 8 GB of RAM is adequate. For medium requirements, 16 GB is recommended. For maximum performance, consider upgrading to 32 GB.
Can I run CATIA on a laptop?
Yes, you can run CATIA on a laptop. However, it's important to note that the performance will vary based on the laptop's specifications. CATIA is a resource-intensive software, so it's crucial to have a laptop with suitable hardware to ensure smooth operation.
How much RAM is required for CATIA on a laptop?
The amount of RAM required for CATIA depends on the complexity of your designs and the size of your assemblies. For general usage, 8 GB of RAM is the minimum requirement. However, for more demanding tasks and larger projects, we recommend having at least 16 GB of RAM or even upgrading to 32 GB for maximum performance.
Is an integrated graphics card sufficient for CATIA?
While integrated graphics cards have improved significantly over the years, they may not provide the optimal performance needed for CATIA. It is highly recommended to have a dedicated graphics card, such as the ones mentioned in the recommended specifications, to handle the graphical demands of CATIA effectively.
Can a gaming laptop handle CATIA?
Yes, a gaming laptop can handle CATIA, especially if it meets the recommended specifications mentioned earlier. Gaming laptops often come with powerful processors, dedicated graphics cards, and ample memory, making them well-suited for resource-intensive tasks like running CATIA.
What processor is best for CATIA on a laptop?
For the best performance in CATIA, a high-end processor is essential. We recommend considering laptops with processors like the i7-1180G7 for maximum performance. However, even processors like the i3-1115G4 or the i5-10310U can handle CATIA, albeit with some compromises in performance and rendering speed.
Is an SSD necessary for running CATIA on a laptop?
While an SSD (Solid State Drive) is not strictly necessary for running CATIA, it significantly improves overall system performance, including faster boot times and quicker data access. We highly recommend opting for a laptop with an SSD to enhance the speed and responsiveness of CATIA.
Are 16GB of RAM enough for CATIA on a laptop?
For most CATIA tasks, 16 GB of RAM should be sufficient. It provides a comfortable buffer for handling moderately complex designs and assemblies. However, if you work with larger projects or require more multitasking capabilities, upgrading to 32 GB of RAM would be a better choice to ensure a smooth experience.
Can I use a MacBook for CATIA?
While CATIA is primarily designed for Windows operating systems, it is possible to run it on a MacBook using virtualization software like Parallels Desktop or Boot Camp. However, please note that running CATIA on a MacBook may not provide the same level of performance as a dedicated Windows laptop with equivalent specifications. It's crucial to check the system requirements and compatibility before attempting to run CATIA on a MacBook.
4 Best Laptops for CATIA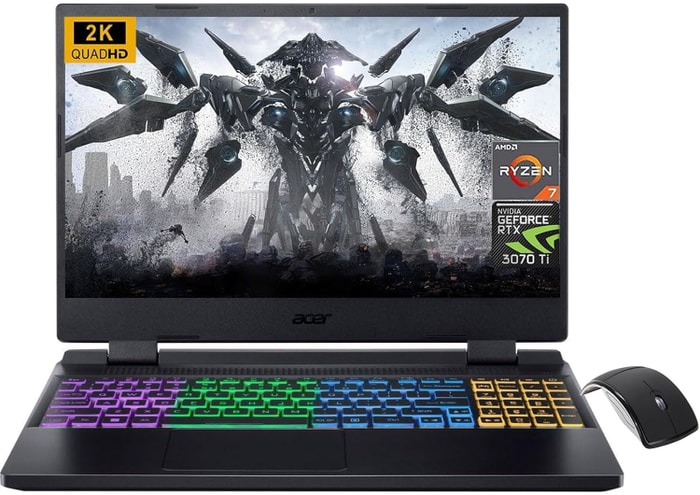 $680
Ryzen 7 6800H | RTX 3070 Ti | 32 GB RAM | 1000 GB SSD | 15.6″; 2560x1440 |
1.acer Nitro 5
CATIA laptop
Pros
Great processor (Ryzen 7 6800H)
Splendid graphics card (RTX 3070 Ti)
Solid display (15.6)
Awesome memory amount (32GB)
Cons
No IPS Panel (inferior color reproduction)
Alternatives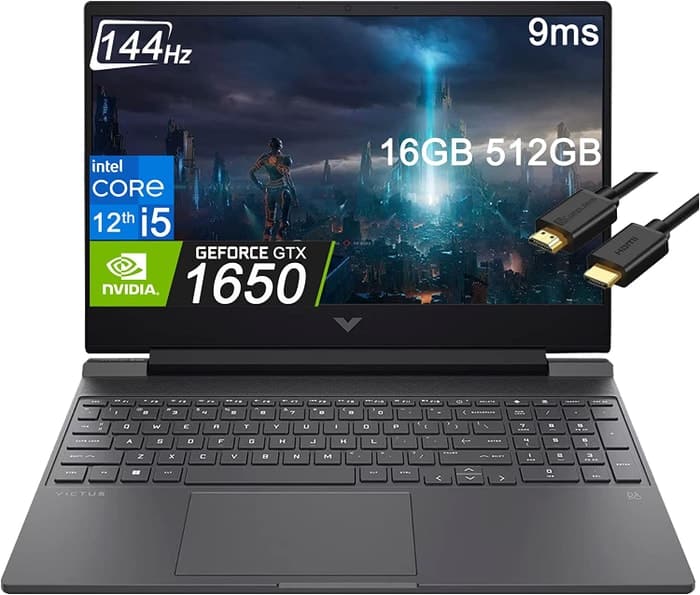 $730
HP Victus 15t
Pros
Low price
Solid gaming performance
Cons
Weak GPU yields unsatisfactory frame rates
Screen only so-so despite 144Hz refresh rate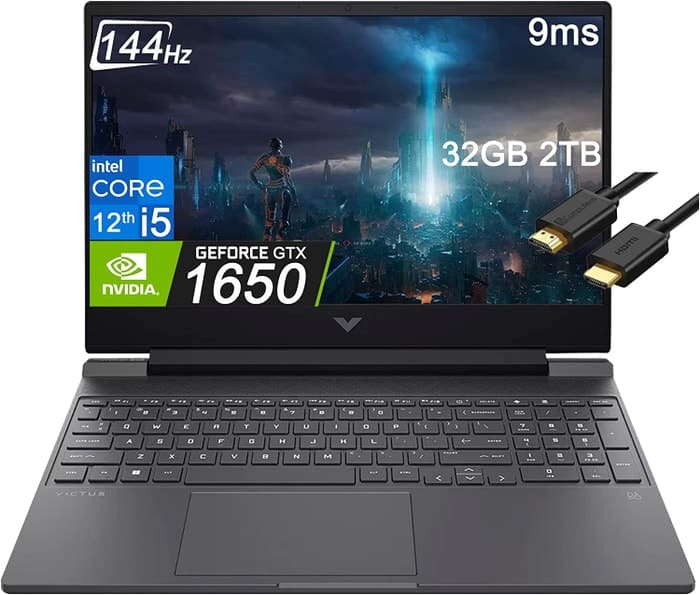 $880
i5-12450H | GTX 1650 | 32 GB RAM | 2000 GB SSD | 15.6″ IPS WA; 1920x1080 |
2.HP Victus 15
HP Victus 15: A budget-friendly gaming laptop with respectable specs.
Pros
Excellent price
Good gaming performance
Solid array of ports
Cons
Bad battery life
Rather plain design
Summary
The HP Victus 15 offers good gaming performance and a solid array of ports at an affordable price. While its design may be plain and its battery life subpar, it is still a remarkable option for those looking for serious gaming potential without breaking the bank.
Alternatives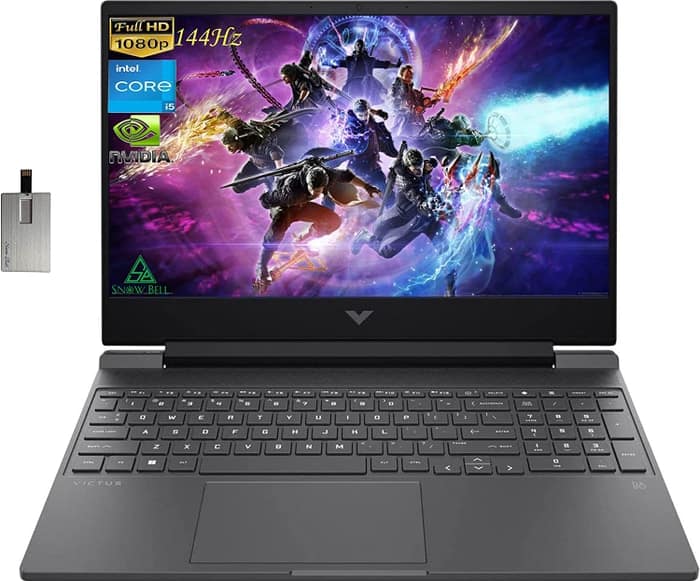 $939
HP Victus
Pros
Delivers smooth gameplay at 1080p.
Fast SSD.
Cons
No variable refresh rate to reduce screen tearing.
Some performance loss on CPU under load.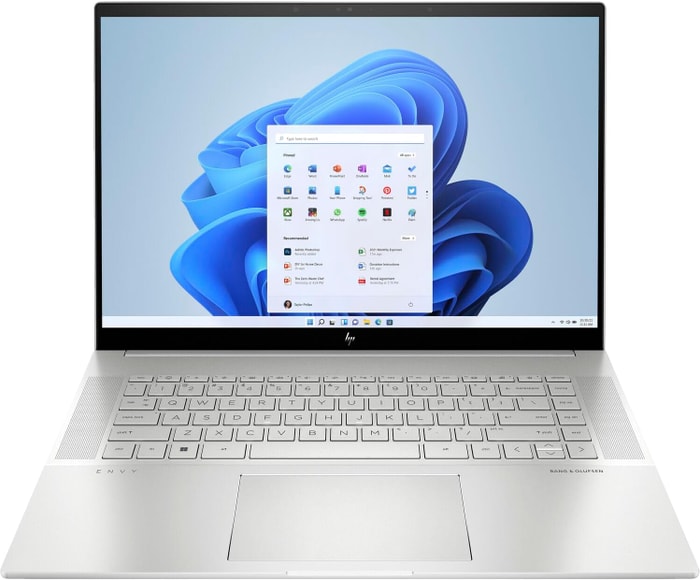 $1,800
i9-13900H | RTX 4060 | 64 GB RAM | 2000 GB SSD | 16″ IPS Touch; 2560x1600 |
3.HP Envy 16
HP Envy 16: A high-performance heavyweight laptop for creative apps and light gaming.
Pros
Plenty of CPU and GPU power
New 120Hz screen refresh rate
High-res webcam
Sleek design
Cons
Merely adequate base screen
Optional OLED has fewer pixels than before
Bulky and heavy
Summary
The HP Envy 16 is a powerful and sleek laptop with high-end features like a world-class webcam and a 120Hz refresh display. It's a great choice for creative applications and light gaming, although it may be a bit bulky and heavy.
Alternatives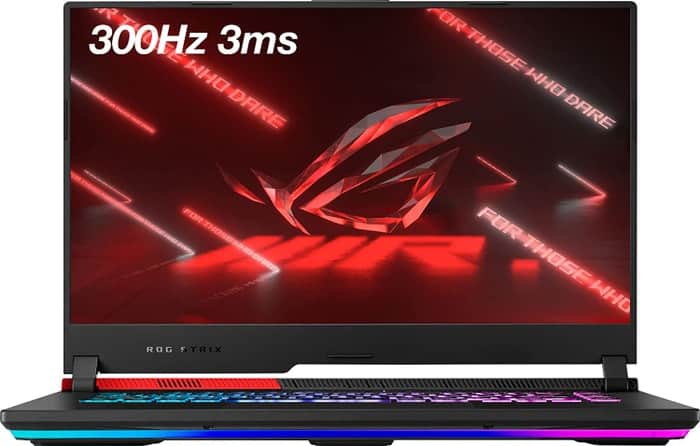 $1,750
ASUS ROG Strix G15
Pros
High-performance CPU and GPU
Good workmanship and design
Cons
Skimpy connectivity
Coil whine in certain situations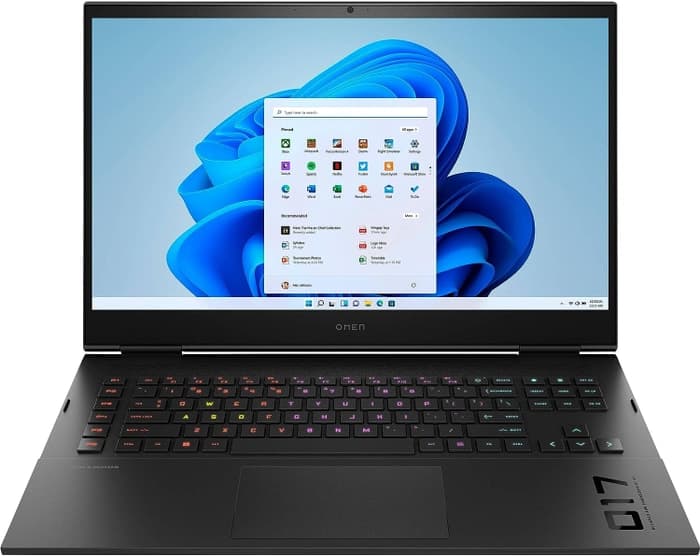 $4,290
i9-13900HX | RTX 4090 | 64 GB RAM | 8000 GB SSD | 17.3″ IPS; 2560x1440 |
4.HP Omen 17
Powerful gaming laptop with a high-end processor and graphics card, but falls short in noise level and battery life.
Pros
QHD display with 165 Hz
Expandable working memory
Thunderbolt 4 with Power Delivery
Individual key illumination
Cons
Slightly below-average performance for a RTX 4080
High noise level
Clattery case
Meager battery life
Summary
The HP Omen 17 is a high-end gaming laptop with a powerful Core i9 processor and GeForce RTX graphics card, making it suitable for video processing, rendering, and QHD gaming. It features a QHD display with a high refresh rate, expandable working memory, and Thunderbolt 4 connectivity. However, it has a slightly below-average performance for its graphics card, high noise level, and limited battery life.
Alternatives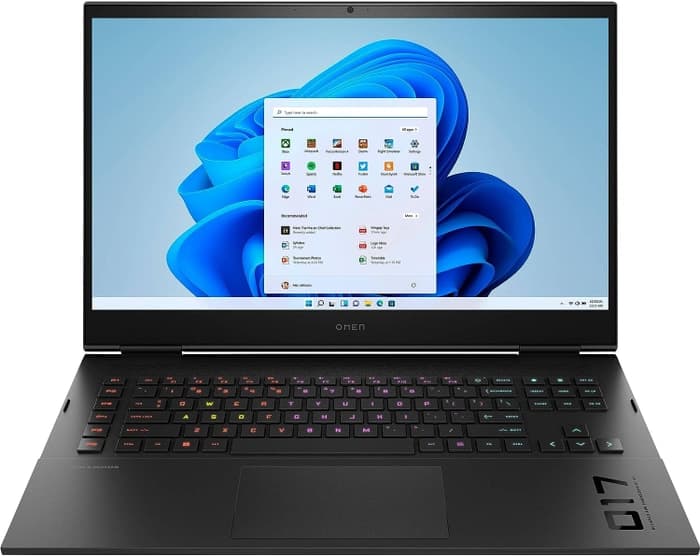 $4,290
HP Omen
Pros
QHD display with 165 Hz
Advanced Optimus
Cons
Slightly below-average performance for an RTX 4080
High noise level
Table of the Best Laptops for CATIA
| | |
| --- | --- |
| Laptop | Price (approx) |
| acer Nitro 5 | $680 |
| HP Victus 15 | $880 |
| HP Envy 16 | $1,800 |
| HP Omen 17 | $4,290 |