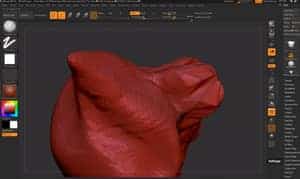 Choosing the best laptop for ZBrush can be a challenging task, especially considering the unique requirements and preferences of digital sculptors and 3D artists. As an avid user of ZBrush and other 3D modeling applications, I understand how crucial it is to have a laptop that delivers top-notch performance, reliability, and efficiency. In this buying guide, we'll explore the essential factors that contribute to an exceptional ZBrush experience, so you can make an informed decision when selecting your next creative companion.
When it comes to finding the best laptop for digital sculpting, one must consider several key components. These include the CPU, GPU, RAM, and storage, all of which play a significant role in ensuring a smooth and responsive ZBrush workflow. To help you make the right choice, I've meticulously reviewed an extensive laptop spreadsheet of recent releases, comparing specs and reviews from both professionals and users alike. I've narrowed down the top laptops based on ZBrush-specific requirements and various price ranges, keeping in mind the needs of artists working on projects ranging from freelance commissions to high-end production studios.
Throughout this guide, I'll address crucial aspects such as viewport performance, rendering capabilities, and the importance of a color-accurate display for digital sculpting. We'll also touch upon the benefits of having a dedicated GPU for real-time viewport rendering and the advantages of SSD storage for faster file access and reduced project load times. By the end of this guide, you'll have a comprehensive understanding of what makes a laptop the best fit for ZBrush and be well-equipped to choose the perfect device for your creative endeavors.
Deciding on a processor
It's been an interesting year for laptop processors, with both Intel and Apple releasing new chips to take on the competition. Intel has released the 12th generation of their Core processors (based on a hybrid performance/efficiency core design), while Apple has launched their own M1, M1 Pro, M1 Max, and M2 system-on-chip modules, which offer incredible single-core performance and battery life. Meanwhile, AMD has managed to take 20% of the CPU market with their 6th generation Ryzen processors, which are best if you need a good battery life in a PC laptop.
If you're looking for a laptop for ZBrush, you have a lot of choices. You can get a laptop with either an Intel or AMD processor, as well as Apple's own M1 chips. As ZBrush is available on both Windows and macOS, you can choose between these platforms. If you're looking for a MacBook Pro, I'll assume that you're primarily using it for ZBrush, so I'll focus on that.
But first, let's take a look at the CPU. The processor is not as important as it used to be, but it's still important to get a fast processor if you want to use ZBrush's real-time rendering engine (Cycles). I'll use Cinebench R20 multi-core scores for my recommendations since it's one of the most popular benchmarks for 3D applications; however, any other benchmark will do just fine as long as it's recent enough to provide a good estimate of the processor performance in ZBrush.
And if you're looking for a high-end workstation, consider getting a laptop with an H-series processor; these are designed for demanding applications such as 3D modeling and gaming, and they offer better performance at the expense of battery life. However, you should also consider other factors when choosing a laptop for ZBrush such as thermals, battery life, and weight.
Now let's take a look at my recommendations by price range. For the budget-conscious user, I'd recommend getting an Intel i3-1115G4 processor; it offers decent performance at a very low price point. For those who don't want to compromise on performance, I'd recommend getting an Intel i5-10310U; it offers excellent performance and good battery life. For the high-end user, I'd recommend getting an Intel i7-1180G7; it offers the best performance of all but with lower battery life.
So depending on your budget and needs, you should be able to find the perfect laptop processor for ZBrush.
What's the best graphics for ZBrush?
If you're a 3D artist who works with ZBrush and you're looking for a laptop, the graphics card is one of the most important components you'll need to consider.
Nvidia currently dominates the laptop graphics market, and they recently released a few RTX 40 series cards, although these are not yet available on laptops. For now, you'll need to look at the RTX 30 series GPUs such as the RTX 3070 Ti. Unfortunately, desktop GPUs are now a lot more power-hungry and the gap between power-limited notebook graphics and desktop graphics cards has widened in the past few years. Furthermore, Nvidia has discontinued the Max-Q label for its RTX graphics cards. Now, an exact GPU wattage is determined by a laptop manufacturer (OEM) which can result in a wide variance in graphics performance even in laptops with the same GPU chipset.
So, how do you know if a graphics card is suited for 3D modeling and rendering? 3DMark is a well-known benchmark that everyone can access, and it's often used to compare different GPUs. Of course, if you're looking for a gaming laptop, you'll also want to look for one with an Nvidia G-Sync panel; it will ensure that your games run smoothly even when your framerate drops below the refresh rate of your display panel (which is usually around 144Hz).
Now, let's take a look at some recommended GPUs based on your budget. For a budget-friendly option, you could consider the GeForce GTX 1650. For a mid-range option, you could look at the GeForce RTX 3050. And, if you're looking for a high-end GPU, you could go with the GeForce RTX 3050 Ti.
Keep in mind that although a dedicated GPU is not necessary for ZBrush, it can speed up some tasks, especially if you're working with V-Ray or Octane.
Here's a summary table of the recommended GPUs and their respective price brackets:
| Graphics Card | Price Bracket |
| --- | --- |
| GeForce GTX 1650 | Budget-Friendly |
| GeForce RTX 3050 | Mid-Range |
| GeForce RTX 3050 Ti | High-End |
Deciding on a memory
The amount of RAM you need to run ZBrush is determined by how complex your scenes and meshes are. Fortunately, memory prices have come down significantly over the past few years, so it's easier than ever to get a laptop with plenty of RAM for ZBrush.
Most mid-range laptops now come with 16 GB of RAM, which should be more than enough for most artists. However, if you're working with high-poly meshes or complex scenes, 32 GB or more is ideal. It's worth noting that DDR5 is still expensive and needs time to mature as a technology – DDR4 will be more than sufficient for most artists.
When shopping for a laptop with a lot of RAM (32 GB or more), make sure it has enough free DIMM slots to support it – most laptops have 2 free DIMM slots. Additionally, you should also look out for RAM latency and frequency, as this can affect the overall performance of your laptop.
Here's a table of recommended RAM configurations depending on your budget:
| Budget | Minimum | Recommended | High-end |
| --- | --- | --- | --- |
| Low | 8 GB | 16 GB | N/A |
| Mid | 8 GB | 16 GB | 32 GB |
| High | 8 GB | 32 GB | 32+ GB |
4 Best Laptops for ZBrush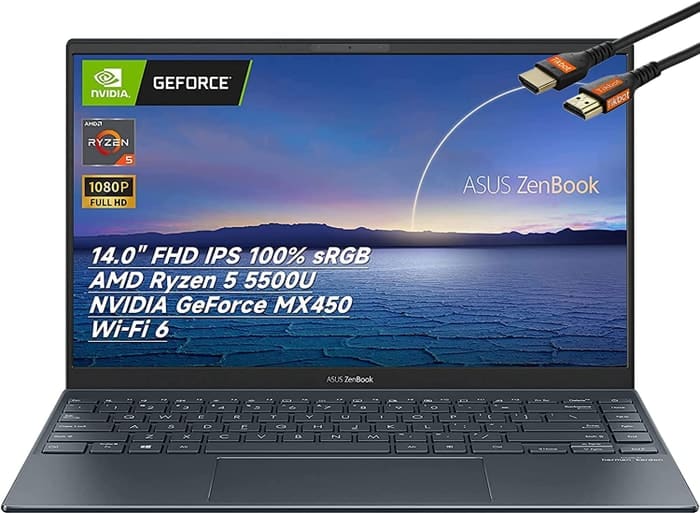 $640
Ryzen 5 5500U
|
MX450
|
8 GB RAM
|
512 GB SSD
|
14″ IPS; 1920x1080
|
ASUS Zenbook offers excellent performance in a sleek design, but its limited ports and weak Wi-Fi might disappoint some.
Pros
Excellent battery life
Sleek and lightweight design
Fast processor
Cons
Soldered RAM that cant be expanded
Annoying fan behavior at times
Weak Wi-Fi
Only a few ports
Summary
ASUS Zenbook offers a lightweight and slim design with a fast processor that provides excellent battery life. However, the soldered RAM, annoying fan behavior, and weak Wi-Fi might be some downsides.
Alternatives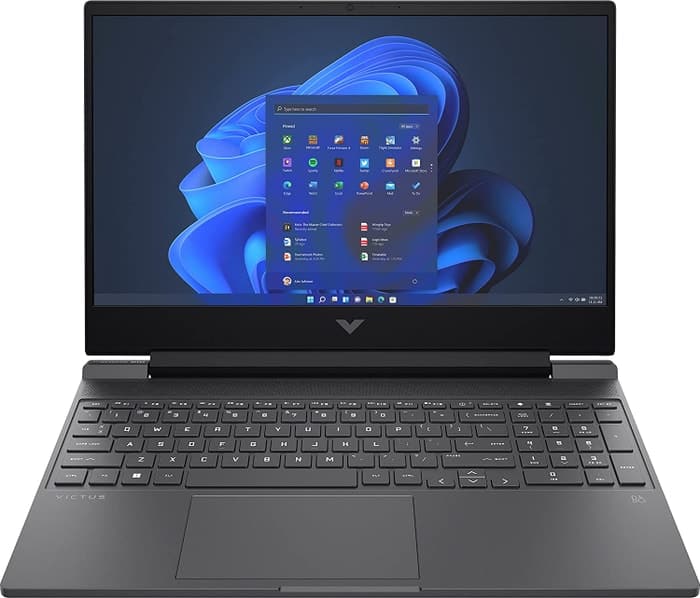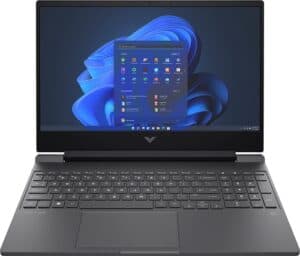 $600
Pros
Strong entry-level gaming
Solid productivity performance
Cons
Display and webcam could be better
Too much preinstalled software
$880
i5-12450H
|
GTX 1650
|
32 GB RAM
|
2000 GB SSD
|
15.6″ IPS WA; 1920x1080
|
The HP Victus 15 is an affordable laptop for work and play, but not for the graphics-hungry.
Pros
Affordable price
Versatile for work and play
Good port selection
Cons
Short battery life
Plain design
Weak GPU for gaming performance
Summary
The HP Victus 15 is a budget gaming laptop designed for the price-conscious buyer. It can handle high-end games while still being suitable for other tasks, making it a versatile work-and-play device. However, the laptop has a short battery life and an uninspiring design, and its gaming performance is subpar due to its weak GPU.
Alternatives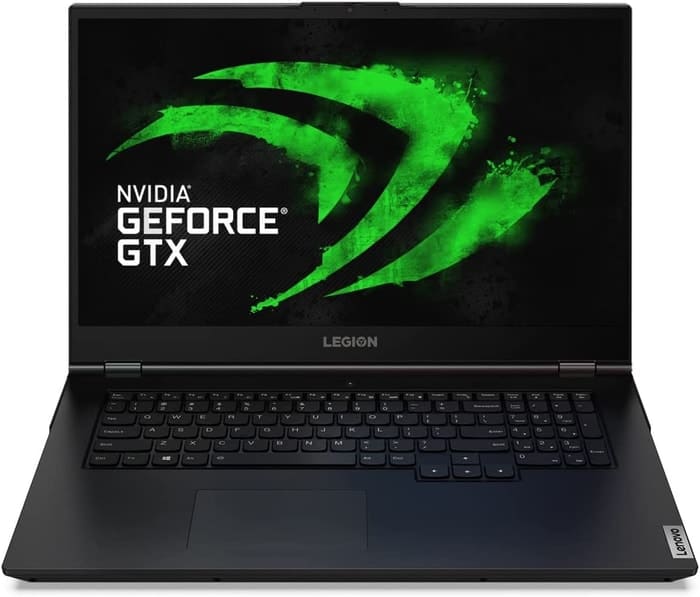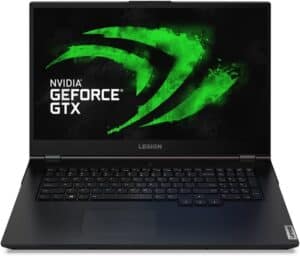 $950
Pros
Decent gaming performance
Reasonably quiet under load
Cons
Short battery life
Small touchpad
$1,600
i7-12700H
|
RTX 3070 Ti
|
64 GB RAM
|
2000 GB SSD
|
15.6″ IPS-level; 2560x1440
|
Gigabyte's AORUS 15 XE4 is a performance powerhouse for ZBrush users.
Pros
Highly responsive 165Hz panel
Wide colour gamut
High system performance
PCIe 4.0 SSD
Cons
High power usage at idle and low load
No card reader
Only one USB-A port
Summary
The Gigabyte AORUS 15 XE4 is an impressive gaming laptop that is also well-suited for resource-intensive applications like ZBrush. It has a highly responsive 165Hz panel, wide colour gamut, high system performance, PCIe 4.0 SSD, and Thunderbolt 4 support. However, its power usage is high at idle and low load, it lacks a card reader, and it only has one USB-A port.
Reviews
Alternatives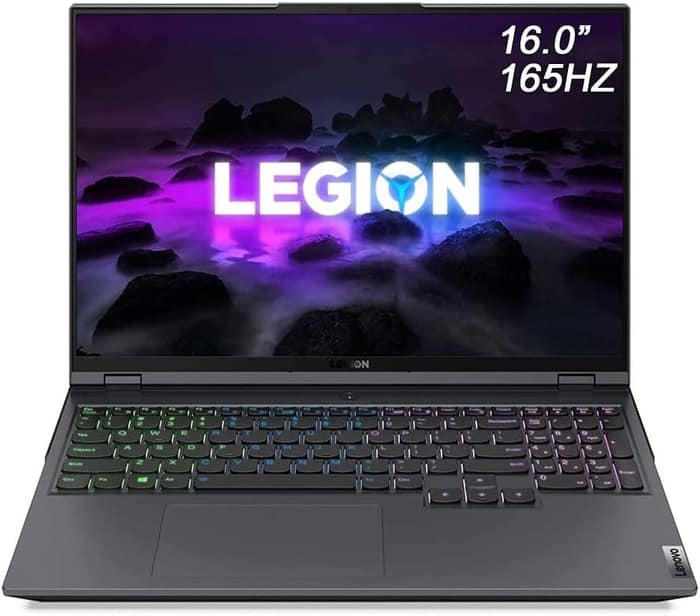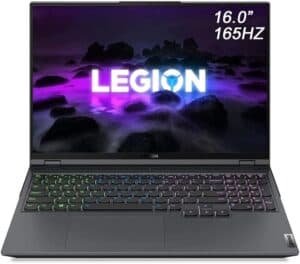 $1,600
Pros
Bright and colorful display
Many replaceable modules
Cons
Drab design for a gaming laptop
Limited storage capacity
$2,310
Ryzen 9 5900HX
|
RTX 3080
|
64 GB RAM
|
4000 GB SSD
|
15.6″ IPS-level G-Sync; 1920x1080
|
ASUS ROG Strix Scar is a beastly performer but has concerns with overheating and battery backup.
Pros
Sturdy construction
Fast Wi-Fi 6E
Excellent response times and no PWM
Wide color gamut coverage with Dolby Vision support
Cons
Limited display angle
High heat and noise emissions under load
Battery backup could have been better
Heavy SSD throttling during continuous reads
Summary
The ASUS ROG Strix Scar is a powerful laptop with a solid construction, fast Wi-Fi, and excellent response times. It boasts a dedicated MUX switch along with upgrades to Intel Alder Lake Core i9-12900H and an Nvidia RTX 3070 Ti. However, it struggles with overheating, limited display angle, and poor battery backup.
Alternatives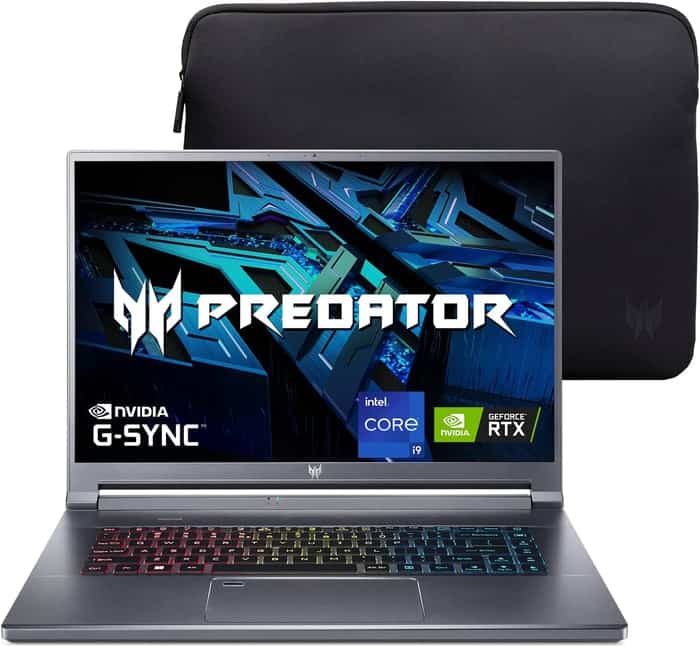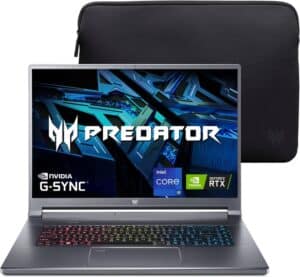 $2,500
Pros
High-performance capabilities
Excellent, bright 240Hz display
Cons
Soldered-in RAM
Inaccessible SSD
Table of the Best Laptops for ZBrush