Welcome to the ultimate guide for finding the best laptop for Street Fighter 6. As a dedicated fan of the Street Fighter series, I understand the importance of having the right hardware to fully immerse yourself in the fast-paced, competitive world of this iconic fighting game. Whether you're an aspiring pro player or simply enjoy casual matches with friends, this guide has been tailored to ensure your laptop can handle the intense graphics and precise controls that make this game so thrilling.
To help you find the best laptop for Street Fighter 6, I have meticulously reviewed an extensive spreadsheet of the latest laptop releases, compared specs and reviews from both professional and user-generated sources, and narrowed down the top options based on the unique requirements of the game and various price ranges. With the ever-growing esports scene and the Street Fighter community being more active than ever, it's crucial to have a laptop that can keep up with the demanding performance needs of the game, while also providing a seamless online experience for those nail-biting ranked matches.
In this guide, you'll find laptop suggestions that prioritize a high refresh rate display to ensure smooth gameplay, powerful GPUs for rendering the intricate character models and stages, and responsive keyboards for executing those frame-perfect combos. Furthermore, I'll highlight the importance of solid network connectivity for a lag-free online experience, as well as the benefits of a sleek and portable design for local tournaments or gaming sessions on the go. With my passion for both Street Fighter and the world of laptops, I am confident that this guide will help you find the perfect machine to dominate the leaderboards and become the ultimate World Warrior.
Level Up Your Gaming with These Power-Packed Processors
Choosing the right processor for a gaming laptop can be a daunting task, especially when it comes to fighting games like Street Fighter 6 that rely heavily on single-core performance. In this section, I'll provide you with some guidance on how to select the right processor for your SF6 laptop.
Gaming laptop processor market overview
When it comes to processors, you have three main options: Intel, AMD, and Apple. Apple's silicon-based M1, M2, M2 Pro, and M2 Max processors offer exceptional single-core performance and battery life, making them a viable option for SF6. However, you'll need to decide if the benefits of Apple's ecosystem are worth sacrificing some performance. AMD has captured 20% of the laptop CPU market, and its Ryzen processors are best if you need a good battery life in a PC laptop. Intel's 13th-generation Core processors have already been released, but 12th-generation Core CPUs can provide a lot of value, especially if you don't need cutting-edge performance.
How much money do you have to spend on a gaming laptop?
The first thing you need to consider is your budget. If you're not keen on spending too much money on your first gaming laptop, mid-range processors will do just fine in Street Fighter 6. However, if you're looking for a gaming laptop that can handle other demanding titles as well, look for a high-end processor from either AMD or Intel.
What are your gaming laptop requirements?
The second thing to consider is your gaming laptop requirements. If you're only planning on playing Street Fighter 6, then you don't need a high-end processor. However, if you plan on playing other games that require more processing power, you'll need a more powerful processor.
Which processors are best suited for gaming?
For SF6, you can choose between AMD and Intel processors. I recommend sticking with Ryzen or Intel H-series chips, as they have more cores and threads than their P-series counterparts. Additionally, I use 3DMark and Cinebench to compare CPUs, as these are industry-standard benchmarks that are easy to find online and compare across different processor series.
Processor recommendations by price range
Here are my processor recommendations for SF6 laptops by price range:
Minimum: i3-1115G4
Recommended: i5-1135G7
High-end: i7-11370H
In conclusion, when choosing the right processor for your SF6 laptop, consider your budget, gaming laptop requirements, and processor performance. By following these guidelines, you'll be able to find the perfect processor for your SF6 gaming needs.
KO Your Competition with These Graphics Cards for Street Fighter 6
When it comes to deciding on the right laptop graphics card for Street Fighter 6, there are a few things to keep in mind. First and foremost, Street Fighter 6 is a fighting game, which means it's not as demanding as other genres like shooters or racing games. However, that doesn't mean we can ignore the GPU entirely.
The CPU is actually more important for Street Fighter 6 than the GPU because it's responsible for sending inputs to the GPU. So if you want a laptop that can handle SF6 without any lag, go for an H-series processor with a high core count (e.g., i7 9700K).
If you want to play SF6 on a high refresh rate screen, you'll need a dedicated graphics card. Otherwise, your system will fall apart when trying to push over 200FPS in the latest version of Street Fighter.
To rank graphics chips by performance and power consumption, I use 3DMark – an industry-standard benchmark that measures performance beyond just framerates in games like SF6. Currently, Nvidia dominates the laptop GPU market. The first round of Nvidia's recently released RTX 40 series cards is already hitting the shelves, but RTX 30 series cards still make up the majority of the notebook GPU market.
It's important to note that Nvidia has discontinued the Max-Q label for its RTX graphics cards, and now an exact GPU wattage is determined by a laptop manufacturer (OEM). Unfortunately, this results in a wide variance in graphics performance even in laptops with the same GPU chipset.
If you're looking for a gaming laptop that can also be used for work, look for one with Nvidia Optimus or AMD Dynamic Switchable Graphics (DSG). These technologies allow your laptop to switch between integrated and discrete graphics depending on your requirements.
Here are my recommendations for laptop GPUs to play Street Fighter 6:
| Price Range | Recommended GPU | Expected Laptop Price |
| --- | --- | --- |
| Minimum | GeForce GTX 1650 | $600-$800 |
| Recommended | GeForce RTX 3050 | $900-$1200 |
| High-end | GeForce RTX 2060 | $1300-$1800 |
Keep in mind that these are just recommendations, and the prices listed are just estimates. Be sure to do your own research and compare different models before making a purchase.
Fight like a pro with high RAM!
When it comes to gaming laptops, RAM is an essential component that can significantly impact your gaming experience. Street Fighter 6, being a memory-intensive game, requires a minimum of 8 GB of RAM. However, if you're looking to play the game at 4K resolution and high framerates, 16 GB is the ideal amount of memory.
Now, the question arises – should you opt for DDR4 or DDR5 RAM? Well, the latest-gen Intel and AMD CPUs support both DDR4 and DDR5, but DDR5 is still quite expensive and needs time to mature as a technology. In other words, there's no reason to get DDR5 unless you're looking for a laptop with 32 GB of RAM or more.
Apart from DDR4 vs DDR5, there are other considerations when choosing RAM, such as latency and frequency. However, these factors can be quite technical and won't make a massive difference in real-world gaming scenarios.
If you're looking for a laptop that will last you for years, I'd recommend getting one with 32 GB of RAM from the get-go. This way, you'll be covered for the future and won't have to upgrade your laptop's RAM later on.
To summarize, here are the recommended RAM configurations for gaming laptops:
| Configuration | Recommended Use |
| --- | --- |
| Minimum: 8 GB | Bare minimum for gaming |
| Recommended: 16 GB | Ideal for most gaming scenarios |
| High-end: 32 GB | For future-proofing and running memory-intensive applications |
In conclusion, choose the amount of RAM that best fits your budget and needs. If you're on a tight budget, 16 GB of DDR4 RAM is more than enough to run Street Fighter 6 smoothly. However, if you're looking for a high-end laptop that can handle memory-intensive applications and games, a laptop with 32 GB of RAM is the way to go.
Get your fighter game on with these FAQ!
Q: Can Street Fighter 6 be played on a laptop?
Absolutely! Street Fighter 6 can be played on laptops that meet the minimum system requirements.
What is the best laptop for Street Fighter 6?
The best laptop for Street Fighter 6 depends on your budget and desired performance level. However, for the best experience, we recommend laptops with at least a GeForce RTX 2060 graphics card, 16 GB of memory, and an Intel Core i7-11370H processor.
What are the recommended laptop specs for Street Fighter 6?
The recommended laptop specs for Street Fighter 6 include a GeForce RTX 3050 graphics card, 16 GB of memory, and an Intel Core i5-1135G7 processor. These specs will ensure smooth gameplay and a great visual experience.
Can I run Street Fighter 6 on a low-end laptop?
Running Street Fighter 6 on a low-end laptop may be challenging. While it is possible to run the game on a laptop with lower specs, you may experience performance issues such as lag or lower graphics quality. We recommend aiming for at least a medium-range laptop for a better gaming experience.
What graphics card do I need for Street Fighter 6 on a laptop?
To play Street Fighter 6 on a laptop, you'll need a dedicated graphics card. The minimum requirement is a GeForce GTX 1650, but for optimal performance, we recommend a GeForce RTX 2060 or higher.
Is an Intel Core i5 processor enough for Street Fighter 6 on a laptop?
Yes, an Intel Core i5 processor is sufficient to play Street Fighter 6 on a laptop. However, for a smoother gaming experience, we recommend upgrading to an Intel Core i7-11370H processor.
Can I play Street Fighter 6 on a budget laptop?
Yes, you can play Street Fighter 6 on a budget laptop. Laptops such as the HP Victus, priced at $890, offer decent performance for the price. However, be aware that you may need to lower some graphics settings to ensure a smooth gameplay experience.
How much RAM do I need for Street Fighter 6 on a laptop?
For Street Fighter 6, we recommend a minimum of 8 GB of RAM. However, for better performance and to future-proof your laptop, we recommend opting for a laptop with 16 GB of RAM.
What laptops are compatible with Street Fighter 6?
Several laptops are compatible with Street Fighter 6. Some recommended options include the HP Victus, ASUS TUF F15 FX507ZM-ES74, ASUS ROG Strix Scar, Lenovo Legion Pro 7i 16, and Dell XPS 17 9720. These laptops offer a range of performance levels and prices to suit different budgets and gaming preferences.
How to optimize a laptop for Street Fighter 6 gaming?
To optimize a laptop for Street Fighter 6 gaming, follow these tips:
Update your graphics card drivers to the latest version for optimal performance.
Close unnecessary background applications and processes to free up system resources.
Disable any power-saving settings that may limit your laptop's performance.
Make sure your laptop is running on a stable power source to prevent performance fluctuations.
Consider investing in a cooling pad or external cooling solution to keep your laptop's temperature in check during intense gaming sessions.
Adjust in-game graphics settings to balance performance and visual quality based on your laptop's capabilities.
5 Best Laptops for Street Fighter 6
$880
i5-12450H
|
GTX 1650
|
32 GB RAM
|
2000 GB SSD
|
15.6″ IPS WA; 1920x1080
|
HP Victus 15: A budget gaming laptop with good performance, but lacking in battery life and design.
Pros
Excellent price
Good gaming performance
Can double as a work laptop
Three color choices
Cons
Bad battery life
Rather plain design
Weak GPU yields unsatisfactory frame rates
Screen only so-so despite 144Hz refresh rate
Summary
The HP Victus 15 is a budget gaming laptop that offers good gaming performance at an excellent price. It can also serve as a work laptop, but its battery life is subpar and the design is rather plain.
Alternatives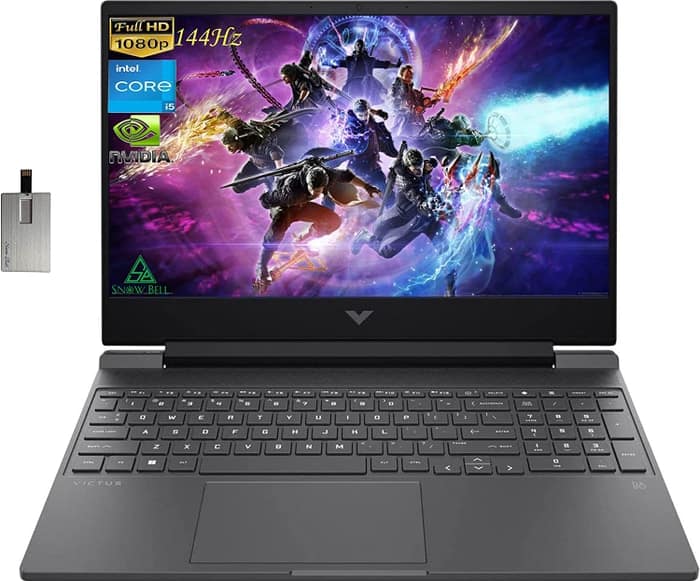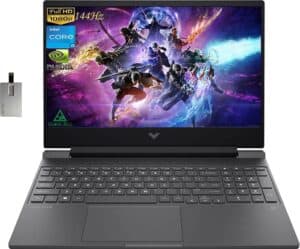 $939
Pros
Delivers smooth gameplay at 1080p.
Fast SSD.
Cons
Slow response time on the 144Hz display leads to ghosting.
No variable refresh rate support.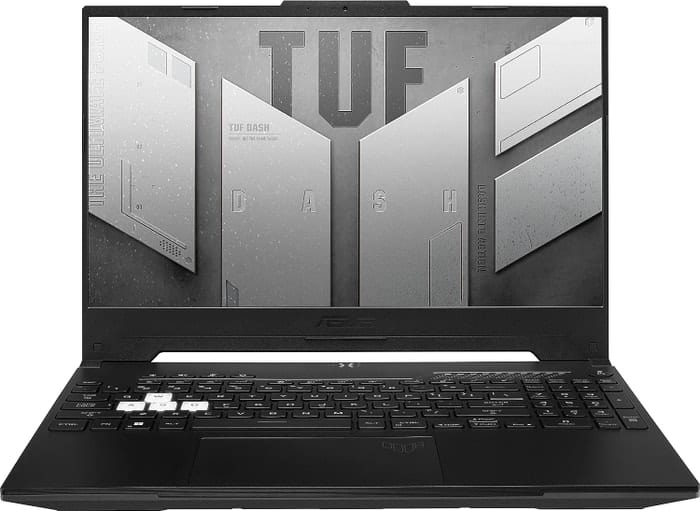 $1,160
i7-12650H
|
RTX 3070
|
64 GB RAM
|
2000 GB SSD
|
15.6″ IPS-level G-Sync; 1920x1080
|
ASUS TUF Dash F15: An affordable and powerful option for all-purpose and gaming needs.
Pros
Lightweight and well built
Good range of screen options
More powerful than previous generation
Decent battery life
Cons
Quirks affecting everyday ergonomics
Ports located mostly on left edge
Careful about the FHD 144Hz panel option
Summary
The ASUS TUF Dash F15 is a well-built and lightweight laptop that offers good performance for its price. It comes with a range of screen options, including a FHD 300Hz display, and has a decent battery life. However, some quirks affect everyday ergonomics, and the ports are mostly located on the left edge.
Alternatives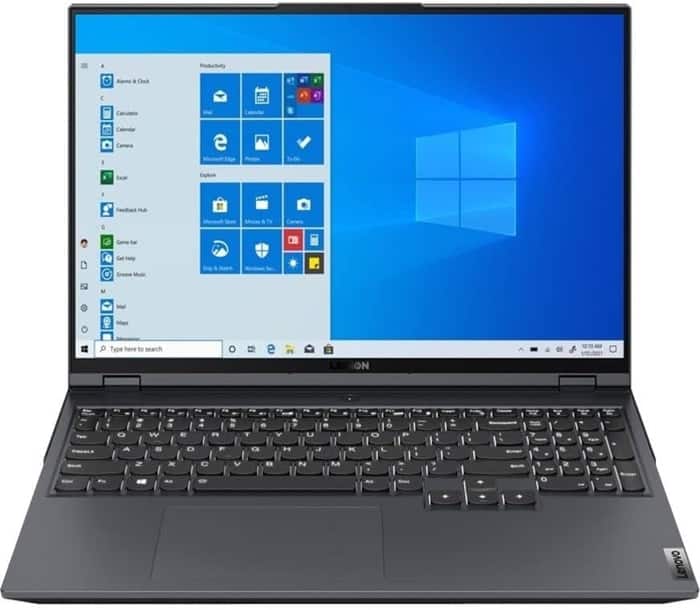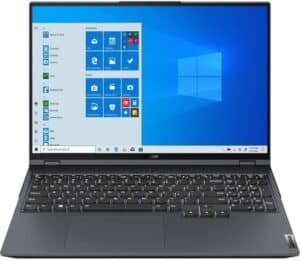 $1,300
Pros
Stylish and sleek form factor
Gorgeous display
Cons
Webcam quality is poor
No biometrics
$2,050
Ryzen 9 5900HX
|
RTX 3080
|
64 GB RAM
|
4000 GB SSD
|
15.6″ IPS-level G-Sync; 1920x1080
|
ASUS ROG Strix Scar: A powerful gaming laptop with some trade-offs.
Pros
Sturdy construction
Fast Wi-Fi 6E
Excellent performance with Core i9-12900H and RTX 3070 Ti
Wide color gamut coverage with Dolby Vision support
Cons
Limited display angle
No biometric login
High heat and noise emissions under load
Underwhelming battery backup
Summary
The ASUS ROG Strix Scar 15 G533 is a solid choice for gamers, with its sturdy construction, fast Wi-Fi, and powerful Intel Core i9-12900H and Nvidia RTX 3070 Ti performance. However, it does have some downsides, including limited display angle, no biometric login, high heat and noise emissions, and underwhelming battery backup.
Alternatives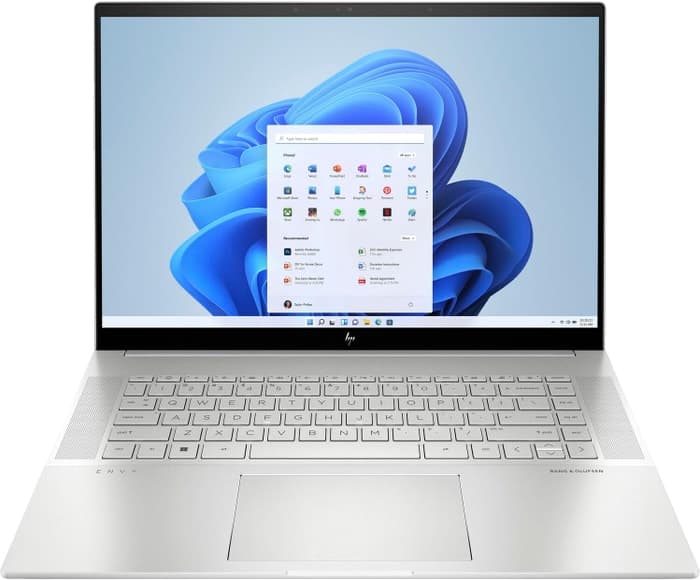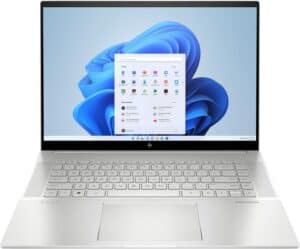 $1,950
Pros
Powerful CPU and GPU
New 120Hz refresh rate display
Cons
Merely adequate base screen
Optional OLED has fewer pixels than before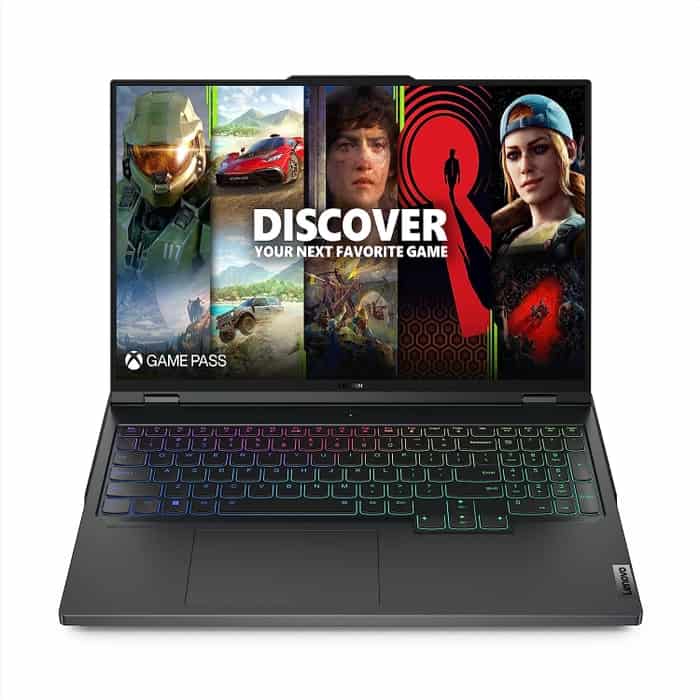 $3,390
i9-13900HX
|
RTX 4090
|
32 GB RAM
|
1000 GB SSD
|
16″ HDR; 2560x1600
|
Lenovo Legion Pro 7i 16: A mid-priced powerhouse for gaming.
Pros
Strong overall performance
Big, bright and fast display
Per-key RGB lighting
Cons
Some flex to keyboard deck
Poor battery life
Summary
The Lenovo Legion Pro 7i 16 is a mid-priced gaming laptop armed with a powerful 13th-gen Core i9 CPU and RTX 4090 graphics. It offers strong overall performance, a big and vibrant display, and per-key RGB lighting. However, there is some flex to the keyboard deck and the battery life is poor.
Alternatives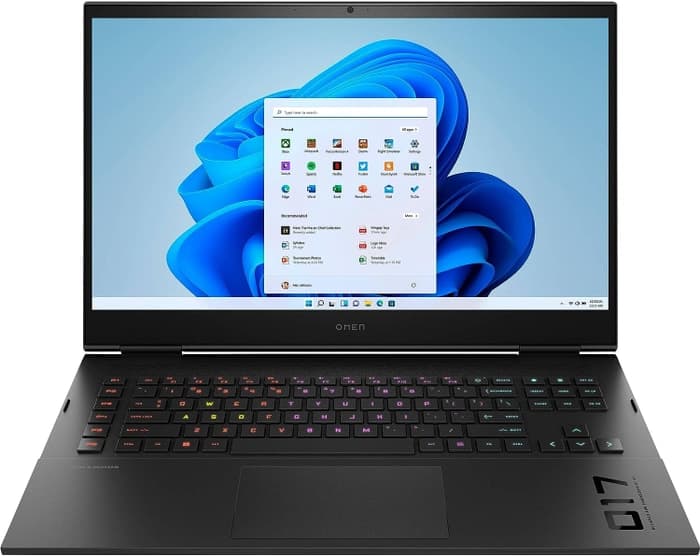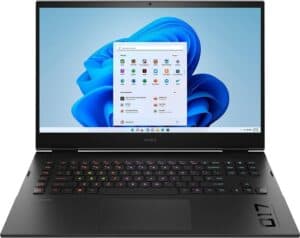 $4,290
Pros
QHD display with 165 Hz
Expandable working memory
Cons
Slightly below-average performance for a RTX 4080
High noise level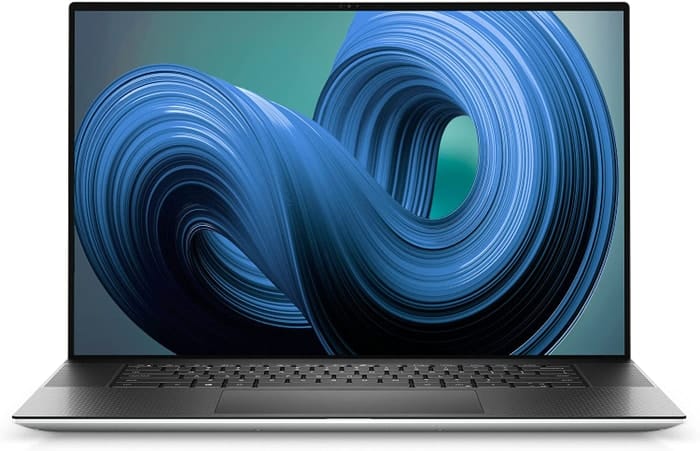 $5,600
i9-12900HK
|
RTX 3060
|
32 GB RAM
|
6000 GB SSD
|
17.3″ IPS HDR; 3840x2400
|
Dell XPS 17 9720: Excellent display and high performance, but graphics and cooling could use improvement.
Pros
Excellent 4K display with AdobeRGB
High-quality case
Thunderbolt 4 PCIe 4.0
Very high system performance
Cons
Lower graphics performance than the predecessor
Performance not completely stable under combined load
Not Wi-Fi 6E compatible
720p
Summary
The Dell XPS 17 9720 features an excellent 4K display with AdobeRGB, a high-quality case, and Thunderbolt 4 & PCIe 4.0. It offers very high system performance, fast card reader, and good speakers. However, it has lower graphics performance compared to its predecessor, not completely stable performance under combined load, lacks Wi-Fi 6E compatibility, and has a 720p webcam.
Alternatives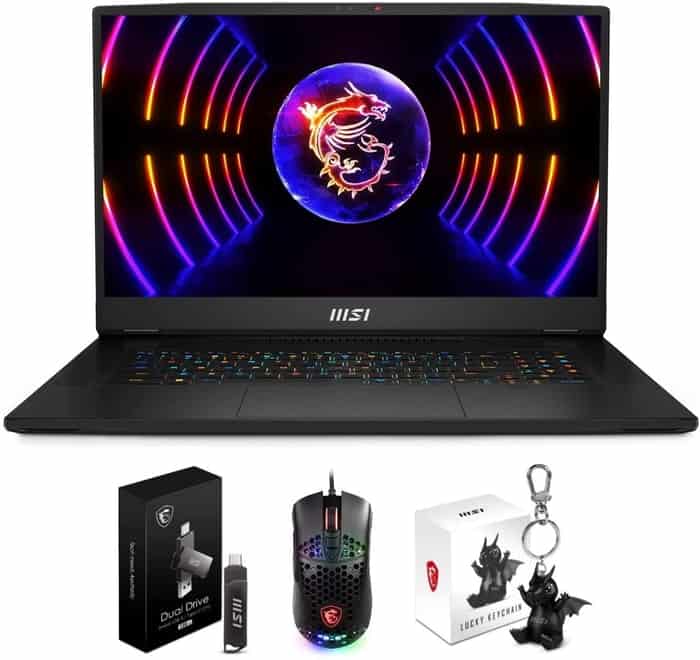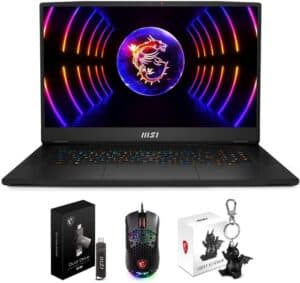 $5,750
Pros
Excellent mechanical keyboard
Class-leading Mini-LED display
Cons
Uninspired design
Short battery life
Table of the Best Laptops for Street Fighter 6